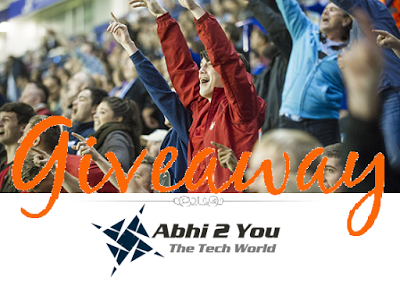 Thanks to Everyone for making this Giveaway a Success One !!

Fun Has been Doubled Now – We made some more Prizes and Winners with new Prizes.
Thank You Everyone for Making Us so much Successful 🙂 We have Completed Our 22 Months being with you all sharing all possible tricks / tweaks . To Celebrate this Moment we have organised a Giveaway for our Visitors.
Our Blog and Techolics Has Organised This Event .To Participate in this Giveaway You need to collect points by doing some simple tasks like Following us on twitter / leaving a comment / Liking us / Sharing this post / etc. Each task carries Points varies from 2 points to 6 points.
P.S. Thanks you all for participating – Results will be out on 21st June 2015.
All Winners are requested to send their Respective Details including – Address , City , State and Mobile Number from the same email address that they used to participate to [email protected] by tomorrow.
We Didn't Got Any Type of Mail from 12 of the Winners !!! Please Share your Details Now to Get Your Rewards !!!!


Format : Name – Email
Winners :-
Flipkart E-Gift Voucher Of Rs.500 x 2.
Arya Keshav – [email protected] – CLAIMED
Umesh – [email protected] – CLAIMED
Mobile Recharges Of Rs.50 x 10
Mobikwik Cash Prize Of Rs.25 x 10
Wynk Music Vouchers (Extra Added).
Winners Do Comment 😉
How winners are selected :
All Participants having points less than 20 – They all will be Disqualified. And Others having Points equals to 20 or more will be Chosen and Randomly Selected as a Winner.
Note – Rafflecopter will Randomize users and Select Winners .
Terms and Conditions :
We owns the right to disqualify any of the participant who violates our terms.
All Prizes are eligible only for selected participants – "No criteria will be applied"
Contest can be shutted and can be changed anytime.
Recharges will be provided to users selected Randomly.
Mobile Recharge will be Processed Within Days of Reaching the Milestone.
We can anytime cancel your Free Gift / Recharge if we found you guilty.
No Spams and no abusment will be entertained.
Prizes are as mentions and can be anytime charged based upon the owner.
Flipkart Voucher provided can have any validity.
We owns each and every right so please contact us for details

[email protected]
Please Mail Us / Comment below for any Assistance !