[EXPIRED]
Hey !
After a long time here is a loot offer by which you can get a lot Free Movie Vouchers. Just share the below app with all your Best buddies. The more you share ! The More the Chances of winning will be there for you.
This Offer will Prove – Sharing is Caring and It always Rewards. ! Do Share our Posts Too.. !!
A New App Launched Named As – "Banglaore Things to do events" Providing Free Bookmyshow Gift voucher in order to promote their App . You can get gift vouchers of Rs.100 ,300,500 Based upon your Eligibility .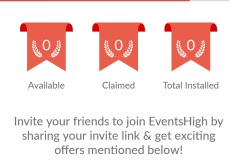 [EXPIRED]
Get The App Now : Click Here


How to get The Offer :-
Firstly Download The App From Here – Click Here
Download the app and let it installed.
Skip the Intro and Enter your mobile number.

Now Select any City and Proceed.
You will be getting OTP Messaged soon as it comes you can verify your Mobile number.
Now you are Ready to Earn Free Bookmyshow Vouchers.
How to Refer Friends :-
In the app [Above Tabs] You will see "Offers" Section at last.
Click on it > Now Copy your Referral Link or Share it where-ever you want to share.
P.S. If you Refer 3 Friends You will get EGV of Rs.100 /-
For 7 Refers You will get an EGV Of Rs.300 /-
And for 10 Friends you will be given EGV of Rs.500 /-'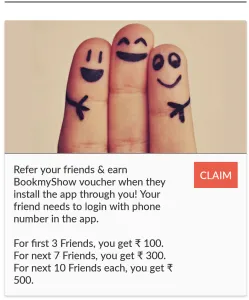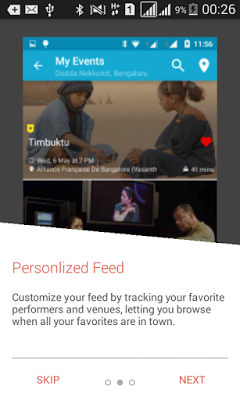 [EXPIRED]
Superb App to Loot Free Movie Vouchers 😉
Get Started Now 😉