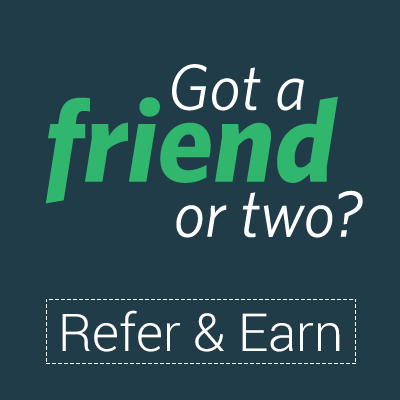 Wanna Earn Flipkart Gift Vouchers ?? Here's a Superb way to get free flipkart Gift vouchers by just referring your Friends.
Here BuyHatke Again Offering Free Flipkart Vouchers by just Referring your Friends to Get the Buyhatke Chrome Plugin. This time Refer 5 Friends and Get Rs.100 Flipkart Voucher and If you Refer upto 50 Friends then you will get Rs.1000 Gift Voucher.
Offer is 100% Genuine and is Live you can also Directly Chat regarding this offer to Buyhatke Visit – http://compare.buyhatke.com/
P.S. You have to refer your Friends who owns a PC / Laptop and Can Download Buyhatke Chrome Plugin .
Rewards :-
Rs.100 Flipkart GV for Just 5 Refers
Rs.1000 Flipkart GV for Just 50 Refers
And So On there is No Limit !!!!!
So You are Getting Rs.100 Per 5 Refers or you can Say Rs.20 Per Referral. There is no limit so if you make 100 Valid Refers you will be Given Rs.2000 Gift Voucher.
How To Get The Offer :-
Firstly Download Buyhatke Chrome Plugin from here – http://bit.ly/BuyHatke

After Installing Buyhatke Plugin Visit This Link –

Click Here

Email / Tweet / Share Your Referral link and You can See the Statistics by clicking on "Referral Statistics" Button at the Bottom of the Page.

Now When you want to redeem it – Then you can Redeem it.
How to Redeem Flipkart Gift Voucher :-
Simply Visit This Link – http://compare.buyhatke.com/ you will see Live char option there. Start a Chat with them and Tell what you want to redeem it.
Tell the Details they will ask and You will be mailed your Gift voucher Soon
Alternate Method – Send a Mail

[email protected]

regarding your Redemption.
Proof :-
Will Here is the Proof. I Got This Flipkart Voucher by Buyhatke for Referring 75 Peoples and Still also am Referring will Post more Proofs soon when i get. Thanks to our Visitors !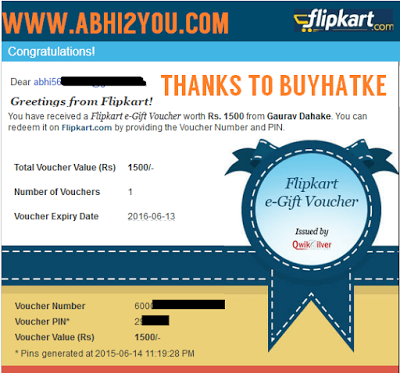 Now Don't Wait ! Go and Start Referring Your Friends now. !!!