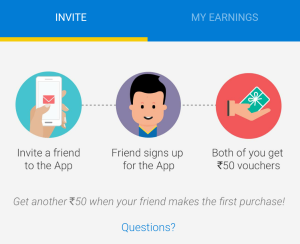 Now when you refer a friend and he purchases from flipkart – then both of you will be given Rs.25 Flipkart E-Gift-Voucher.
Flipkart is back with a new Offer – This Time its Better than all before . Snapdeal too. will be very small in front of this offer – Where in Snapdeal you can just Earn Rs.200 from an account – Flipkart makes you Pay More and more upto Rs.2000. Lets come to the offer :p
In a Single order one can use upto 15 Gift Vouchers (15 x 50 = 750).
Download / Update Flipkart app now
Well You Just have to refer your friends to download Flipkart mobile app – Both of you Will Get Rs.50 Flipkart Voucher Free. When your Friends make a purchase from flipkart – The Referral will again get Rs.50 . Means you are getting Rs.100 Per Referral .
Well to Refer and Earn first You have to Download / Update your Flipkart Mobile App. For New Users flipkart has Rs.50 Free Voucher for them.
Get Flipkart App Now
How to get Rs.50 Free Gift Voucher ?
Download flipkart app now. (Referral link – Use this to get Rs.50 Free).
Sign Up for a new account.
Note : In order to get Rs.50 Flipkart Voucher free you have to Sign up.
Once Successfully Signed Up – You will be mailed your Respective voucher.
Note : If it asks you to enter an Invite code then enter this code : zkm5uu
How to refer and earn more ?
Once you have successfully installed the latest flipkart app from Play Store.
Click on top right icon and there you will see "Invite and Earn" option.

Tap on it and You will be given your referral code – Share it with your friends and make sure they download and install flipkart app from your referral link only.
As your friend makes any purchase through flipkart app you will get Rs.25 and Your friend too.
Maximum you can invite and Earn from 20 of your friends only !!!
Terms and Conditions :
The referred customer must sign up for a new flipkart account within 7 days after installing the app from link of referring customer for both of them to get rewards.
A member can send unlimited referral invites but the rewards will be given only for first 20 successful referrals.
If you try to cheat flipkart by creating fake accounts, then flipkart can take legal action also.
For any Problem do comment :p