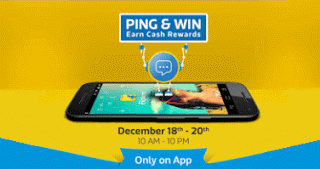 Flipkart's Referral offer has now expired but what if you can still win free gift vouchers or even a Moto G Turbo for free? Yes, Flipkart is now offering free Rs.100 worth Flipkart E-Gift Voucher free for 10,000 users per day for 3 days. Here by answering simple questions you can get a chance to win Moto G Turbo Smartphone for free!
Offer is valid from 18th December – 20th December 2015 | Offer valid only on Flipkart App | Source – Click here
How to get the Offer :-
Download / Update Flipkart's Mobile app from here (App only offer)
Sign In / Sign up a New account on Flipkart.
On the very first app dashboard you will see "Ping & Win Moto G Turbo" offer > Tap on it.
You will get a brief detail about the offer, Now click on "Play the Game" option.
Now you are ready to play! Answer Simple Questions and get a chance to win big on Flipkart (10,000 lucky users to win Rs.100 worth voucher daily).
Go and Grab now before it gets expired!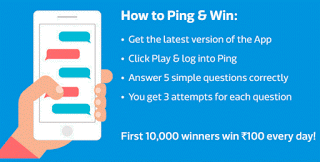 Question / Answers :-


Day 1 :-
1st Question – This Hindi Movie brings SRK and Kajol together on screen after
many years. Share the music CD/DVD of the film.
Answer – Dilwale : 2015 (Music, Audio CD)
2nd Question – This IITian is a best selling author, whose book was made into a film. Share the forst book written by him.
Answer – Five Point Someone : What Not to do at Iit (English) 2nd Edition
3rd Question – Gandalf, Aragorn and Saruman are famous characters from this popular book series. Share the box set of the books on Ping.
Answer – The Hobbit / The Lord of the Rings (Set of 4 Books) (English)
4th Question – This Android wearable watch is associated with the number 360. Share the product.
Answer – Motorola Moto 360 (2nd Gen) Smartwatch(Black)
5th Question – This movie showcases the story of Mark Zuckerburg and the digital empire he built. Share the movie DVD
Answer – The Social Network / The Girl With The Dragon Tattoo
Day 2 :-
1st Question – This famous doll even has a pop song named after her. Share the doctor version of the doll.
Answer – Barbie Doctor Big Box Set
2nd Question – Neo, Trinity and Morpheus were part of this iconic film series. Share its movie DVD.
Answer – The Matrix (Making of Matrix,What is bullet time and many more)(Movie, DVD)
3rd Question – This laptop is popular among gamers. Hey! and it even has an alien connection. Share the laptop
Answer – DELL Alienware
4th Question – Shahid Kapoor and Kareena were remembered for their crackling chemistry in this Imtiaz Ali Film. Share the movie DVD
Answer – Jab We Met(Movie, DVD)
5th Question – Touted to be the fastest and most responsive Moto phone yet, this mobile phone even repels water and dust! Share the product
Answer – Moto G Turbo
Terms and Conditions :-
Offer is valid from 18th December till 20th December 2015 only.
This Offer is open to all current and new users of Ping on the latest Flipkart App on Android and iOS only. A Windows App user shall not be able to participate
This is a limited period offer and is subject to change, at the sole discretion of Flipkart.
You will be able to see a set of 5 simple questions on the Ping feature of the Flipkart App.
The set of questions shall be refreshed on each day during the Offer Period.
To participate in the Offer, You have to attempt all the 5 questions and share the correct answers by sharing the correct product (using "drag and drop" feature or using "add to Ping option" to give the answer).
You will have to attempt each question available on a particular day to move to the next question.
You will get a maximum of 3 tries to answer each question before You can
First 10,000 Participants each day to correctly answer all the 5 will win an EGV worth Rs. 100/-
5 lucky Participants who answer all the 5 questions correctly during a day shall also be eligible for winning a Moto G Turbo being offered by Motorola.
A participant is eligible to win a maximum of 5 EGVs during the Offer Period.
You can participate and win EGVs in any/all days during the Offer Period.
Offer's Detailed T&C – Click Here