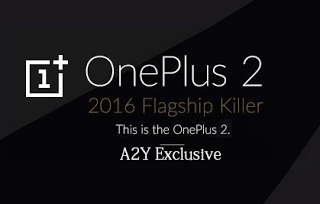 OnePlus 2 has now arrived and available exclusively at Amazon.in – The good news is that the OnePlus phone makes some significant improvements to the specs while keeping the OnePlus 2 price relatively low. It features a better everything, from the display on the front, to the camera in the back and to the internal chips in between. OnePlus has what it boldly calls a "2016 flagship killer".
Get your invite from here – https://oneplus.net/invites (Not Required).
Even the OnePlus 2 invite system has been improved, with the company promising to fulfill demand even more quickly than before. It's just a matter of time before you're able to upgrade.
Amazon Landing Page – Click Here
Amazon Product Page – Click Here (Rs. 24,999 only).
Kindle Books Worth Rs.500 Free with OnePlus 2 – Buy Now
When is it out?
Ans : August 11 is the official release date.
OnePlus 2 Features :-
Dimensions are 74.9 x 151.8 x 9.85 mm.
OnePlus 2 does feature dual nano SIM support.
Specialized USB Cable design.
Android 5.1-based Oxygen OS operating system.
4G LTE Enabled Smartphone.
Bottom Facing Speakers.
Corning Gorilla Glass 4 Protection.
Dual Sim – 2 Slots of Nano Sim.
OnePlus 2 Specs :-
5.5-inch LCD display at 1080p
The Octa-core CPU runs at 1.8 GHz (Snapdragon 810).
4GB of RAM with 64 GiG of internal storage.
3,300 mAh Powerful lithium-polymer's Battery.
13 MP Rear Camera + 5 MP Front-Facing Camera.
How to Buy OnePlus 2 ?


OnePlus 2 Is Exclusively available at Amazon.in – You need an invite code to get this phone ordered. As you know the invite system of OnePlus. This time invite system is optimized more. Check out below to know about "How to Get Invite code".
How to get an Invite ?
You can get an invite from friends who have purchased a OnePlus 2 already, or by participating in our contests and promotions. For notifications about our contests and invites, subscribe to our newsletter, join our community on the forums, or follow us on social media .Here is the Referral way to get one :-
Visit this Link – Click Here
Product Page – Click Here
Scroll down and Enter your Email Address.
Confirm your Email Address by the Confirmation Mail Sent.
Once Verified you will get a Referral link.
Share it with your friends and get bumped in the queue.
If you are lucky you will be mailed about your invite code.
Use it within 48 hours else it will be expired.