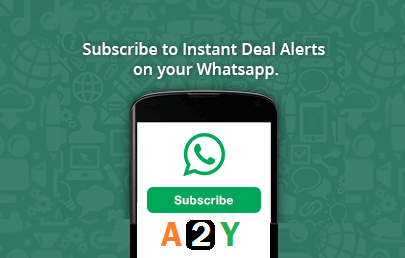 Message "

SUB

<space>

Your Name

" to

9450528077

(Whatsapp).
We have completed our Successful 3 years,We made this blog with the aim to Share everything of Stuff which can help our Visitors. We Started with Games / Softwares and then Moved Toward Tricks and Loots. We hope that we are going Successful.
NOTE – Saving Our Mobile Number is Must otherwise you will not receive our Updates.
This Post is just for our Dedicated Visitors who opted to be with our Updates. In 5 Days We Got 256 Subscribers in whatsapp . We are Really Thank Full to all of them. They will Be Messaged Instantly When Any Loot Offer Comes. As the Youth is now getting more and More Socially connected and they be online Late Nights too. Who has to everytime check any blog for recent updates So here we tried to make a broadcast list.
Message Broadcast Feature helps us to reach more peoples in just one click. The User will also be able to grab the offer / deal asap.
Note : There Is No Plan for making any more Broadcast-list /Group. If we plan such in future we will share it.
We recently lost our Mobile from which we used to send Updates to our subscribers (around 6k Subscribers). We lost our phone as well as our number too. Please cooperate with us and save our new number!
How to

subscribe

:-
In Order to Subscribe Simply Goto your Contacts.
Add a new Contact Named – "

A2Y

" with Mobile no. +91-9450528077 and Save it.
Now open your Whatsapp > Contacts and Search for Tech Updater.
Now as you message your Friends simply message us – "

SUB

<space>

Your Name

"
Like "

SUB Amit

" or "

SUB Vinay

" (Without ").
We will Add you as soon as Possible.


Rules Should Be
Followed

:-
Personal Messages to us in Whatsapp will not be replied anymore .We will ignore it.
When we share any Update don't Reply with any Emotions or Make Comments there. If you want you can Comment on our Website or can mail us.
Please Don't Message us for any tricks and loot offers ,If we get to know anything like this we will definitely share it.
Things you can
share

:-
If any Subscriber want to share any Trick or something else that can be helpful then he/she can simply Message that particular message with us,If we find it helpful we will surely share it here giving he/she the Credits.
We may run Giveaways anytime there. So every time try to be updated with us.
We will Share only Exclusive Stuffs there like loots or some thing else which has short validity. For Daily posts you have to visit our blog regularly.
We Value Your
Privacy

:-
Being with us in our broadcast list you are 100% Secured we will never try to make any types of Pranks / Spam to your Number or In whatapp. You Number will be totally safe with us we will never share it with anyone else. So Feel Free.
How It Works :-
Every time we came across any Exclusive deal / Offer ,we will broadcast that message using whatsapp to spread it with our subscribers.
The Message will be send directly to every 256 Subscribers as a Personal Message. Not in any type of group where people can get your mobile number.
For Any Help / Assistance or Concerns Mail Us at
[email protected]
 or you can contact us on our Official Facebook Fan Page :
Click here
Hope you like our Efforts 😉