A simple research app that gives you opportunity to earn directly from your smartphone easily every month withut doing anything just install the app and sit back, you will get your payment after 1st month. It run in background and it generates statistics about how participants use their phone and mobile apps and will gather data including website URLs, general app usage, data usage, and other general trends in order to improve the user experience.
This research project is handle by uTest which conducts usability feedback research. uTest is big name so do not worry about app. Moreover, Earn Rs 5000 and more if you just refer 5 friends to take part in the Facebook research app program.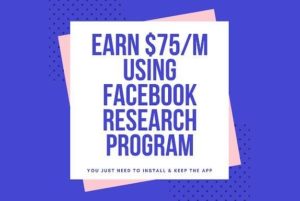 Note- Facebook research app is closing registrations very soon, so hurry up and participate in it to start earning!
Requirements
A Smartphone (iOS or Android)

Android Mobile with Android 6.0 or above version
Apple mobile with iOS version of 8.0 or above

A Paypal Verified ID to get payment & withdraw money to bank
An Invite is required to join this research app program (We will invite you to join this app)
Steps to Join Facebook Research App
OR Save our Whatsapp Number +91-9450528077 & Message us your Name & Email ID!
Now wait for 24 – 48 hours to receive an invitation mail on your email ID
Click on the Link you receive in the email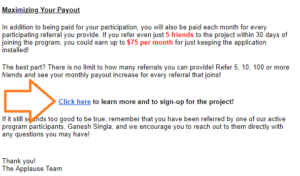 Now Click on the blue botton at the bottom- "SIGN ME UP"
Now you will get the next email with the Facebook Research App Download Link & Invite code
Download the app on your Mobile phone & Install it
Allow 'UNknown sources' to install the app on your smartphone
Open the app > Enter the Invite code you received in the mail
Allow all the necessary permissions to the app to keep running in background
Its a 5 step process which hardly takes 2-3 minutes to complete
Once completed, you would be enrolled in the Facebook Research Program
In the next mail (Within 6-12hr) you will get link to update your Payment method & Link to refer your friends to the program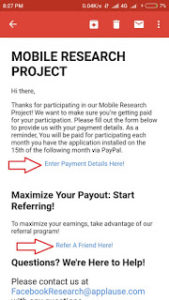 you will get payment of $5 on 15th of every month (You must 31 day old user to get 1st payment)
Special Instructions for Mi Users
Turn on Autostart for Facebook Research app in Mi Devices
Goto Setting -> Permissions -> Autostart -> turn on AutoStart for Facebbok research
Do not clear cache because it will close facebook research app also.
Keep checking daily app is showing a notification and active.
Refer & Earn
In the 3rd Mail you will get the link to refer friends
The link will open a page > Now Click on 'REFER A FRIEND' Button
Enter your name and your email id and then friends details and leave last 2 text box blank and submit
Your friend will get Invite mail in 24 to 48 hour and ask him to submit details to get app link in 2nd mail and so on like you do.
How to check your earnings?
Goto 'Sign In' Option
Tap on forgot password
Now Enter your email address
Now Password reset link would be mailed to you
You will only receive password reset mail if you are 30 days old member of fb research. else you may sign Up (But amount shown will be 0$, which would be updated in 30-45 days)
Now login with your new password
That's it! You can see your earnings Now & your payment date 🙂
Monthly Payout Chart
Earn $5 per month for each month you are active in the program
Earn $10 per month for each referral that signs up for the project within 30 days of you joining the program and remains active for at least 20 days
Earn $5 per month for each referral that signs up for the project after 30 days of you joining the program and remains active for at least 20 days
Earn a $20 bonus per month for every five active referrals (e.g., if you have 10 referrals that were active in a given month, you will earn a $40 bonus that month; if you have 15, you will earn $60, etc.)
Payment Proof (PayPal)