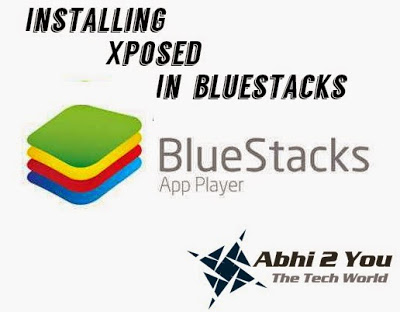 Many Of Our users were not able to install exposed Framework in the Bluestacks. Their is a simple Method to perform it ,Today we are Sharing it 🙂 .By this Trick Exposed Framework can be easily installed in your Rooted Bluestacks.
Requirements :
How To Install Xposed Framework In BS :



Firstly Create A Root.fs Backup in C:/Program Data/Bluestacks/Android folder Before trying to install Xposed Framework (If Bluestacks Hangs During the Process so you can simply Restore it).
Extract the Download Xposed.apk With 7Zip or Winrar and Move to assetsx86 .Now Find "app_process_xposed_sdk16" and Rename it to "app_process".

Run Bluestacks and Wait till the Home Screen Comes. Now Drag and Drop the Renamed File "app_process" into the BS Window (This Will Copy "app_process" to the BS Shared Folder in the SD Card).
Install the Xposed Application Provided In The Bluestacks .Open Xposed and Move to Settings First (After Step 5 Then Goto Framework).

In the Setting Untick on the Option Enable Downloads under the Section Download.

Move to Framework Option Now and Click On "Install/Update".After That It will ask for the Superuser Request . Grant it and wait for few seconds.

Now It Will Ask You To Reboot the Device. Click n Cancel Button (Don't Click Ok Otherwise it will reboot and gets hang at that point).

Now Open the Root Explorer in Bluestacks (If You Don't have Download any root explorer from the Play Store). Goto /system/bin. And Rename the File "app_process-arm" into "app_process-arm.orig".

Next Rename the File "app_process" into "app_process-arm". Follow the Screenshot below.

Still in Root Explorer Browse to /sdcard/windows/BstSharedFolder. Find the file "app_process" there.

Copy "app_process" from the Sd Cards (BstSharedFolder) to /system/bin.

Now All Done ! Simple Restart Bluestacks Now. And If it doesn't Boots then do restore it and Try again from the beginning. It Worked For me. Hope you will Follow Each and Every steps carefully.
Please Do Comment if this Post Worth You 🙂