Paytm Is Upgrading their Service for P2P (People to People) Transfers .So they have closed P2P Transfers for 1 week maybe they are bringing OTP or Pin Systems in order to enhance security of paytm like Mobikwik and Oxigen. But You can send Money or Receive Money By Requesting it. Have a look to the article.
How To Receive Money from Friends :
Open the Paytm Wallet App.
Move to Request Money Section.
Enter the Number from which you want to Receive money.
Enter Number and Put Some Comment like : "I need It" or "Accept it".
Now Your Friend Will receive a Notification via SMS and Email that your Friend has Requested Rs.X from you.
Tell him to open its Paytm Wallet app and accept your Request.
As your Friend Accepts it you will receive the Requested Amount.
How To Transfer Money to Friends :
Tell Your Friend To Request Money by putting your Number in Request Section.
As soon as your friend requests the money you will be notified by Paytm.
Open Paytm App and Accept his Request.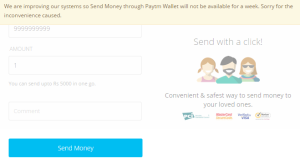 Error Faced If We Transfer Money Directly !!
By these Steps you can easily Receive or send money to your Friend.