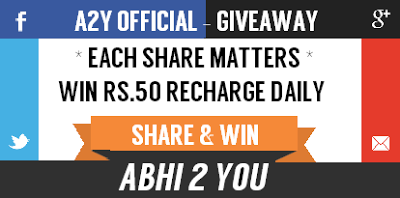 Campaign is Under Maintenance Please Cooperate with Us 🙁
Another A2Y Giveaway is now Going on – Win Free Recharges Daily. Well This Campaign will run for continuously 15 Days – 16th July to 31st July . Each Day their Will Be 3 Winners (Rs.150 Recharge Per Day) – Not Only Daily Winners We also Have Weekly Winners (Rs.250 Per Week) we will be having 2 Valid Week Days .
Total Recharge Prize Worth Rs.3000 (More Secret / Surprise Rewards will be Added).
Well , In order to Participate you need to share our Blog with your friends using Facebook or Twitter Medium – This will enable you to get a Token / Coupon Code – Further you can use it to participate – Lets See How 🙂
"Part of the healing process is sharing with other people who care "- Jerry Cantrell | in Simple Words Sharing Is Caring 🙂
How it Works ?
Social Media is now spread all over the world – Everyone is very familiar with Social Media Platforms like Facebook and Twitter . Make use of it you can just share our blog with your friends and even do refers .The Question Arises now – How can i Win Recharges ?
Answer – There are two Ways to win :-
By Simply Getting Enrolled in our A2Y Giveaway.
By Making Refers (Enrollment is compulsory).
What are the Prizes to be won ?
This Time its all about "Recharges" You can win ONLY Recharges.
Lets see what prizes will winners get :-
Daily Winners :-
Top Referrer of the Day Will Get Rs.50 Assured Mobile Recharge.
Randomly – One Participant Will Win Rs.50 Assured Recharge.
Randomly – Two Referred User (New Users) Who Enrolls will get Rs.25 Recharge / Each.
Total Recharge to Be Won Per Day is Rs. 150.
Weekly Winners :-
Within 15 Days of the Giveaway – There will be 2 Weeks Days to be Participated.
a. 19th July 2015 – Sunday – EID Special – More Rewards will be added.
b. 26th July 2015 – Sunday
Top Referrer of the Week Will Get Rs.100 Assured Mobile Recharge.
Viral Share Maker Prize – Rs.50 Recharge to One Lucky User.
Best Commenter – Till that date One Comment will be Taken for this Reward Prize Worth Rs.50
Randomly – Two Referred User (New Users) Who Enrolls will get Rs.25 Recharge / Each – Weekly Special Prize.
Total Recharge to Be Won Per Week is Rs. 250.
So Each Sunday you can Win Free Recharges Upto Rs. 400 .
Grand Winners :-
Top Referrer of 15 Days will get an Assured Recharge Worth Rs. 250 /-
Randomly – One New User will Get Free Recharge of Rs.150 /-
Randomly – One Participant will get Free Recharge Of Rs.100 /-
Do Comment – Special Rewards are there for Various Commenters.
How to Get Participated ?
Simply you all must have Observed "Share & Win" Button on our Website at the Bottom left of the page.
Mobile Users – Switch your browser to dekstop mode.

Click on it and Simply Share our Blog Using Facebook / Twitter Medium.

After Sharing you will get a Token / Coupon Code.
Also Share Your Referral link Personally to Gain Clicks. "Top Refers of The Day" or "Top Refers of The Week" will be rewarded.

Now just Check your Email for further Details :-
a. You need to Enroll in our Giveaway with the Token Code you Received.
b. You need to confirm your email address to get enrolled.
c. "Enroll Now" Link you will get in your MailBox.
After Successful Enrollment – Start Sharing our Blog with your referral link.
What Your Friends Will Get ?
When any of your Friend uses your referral link to visit us. He / She will get a Free Token Code – Use it to Participate in our Lucky Draw – Per Day 2 Lucky new Users will Get Rs.25 Free Recharge (2 Winners). Means Sharing will not only help you to Win but it also helps your Friend too.
New Users Can Enroll 2 Times .
When He/she uses a Referral link to visit they will get Lucky Token Worth Rs.25
When He/She Shares our Site He/She will get a Lucky Token Worth Rs.50.
Refer more ! Win More .
Well , Each of your Clicks will be counted – Each Day as well as Weekly results of Top Referrer will be added below :-
More Refers you do ! More Free Recharges you can win.
P.S. – More than 5 Click of Same Referral Link from Same Device / IP Will Lead you towards disqualification – Further you have to Contact us to get again in the contest.
Only Clicks are required ! Nothing Else.
As Discussed – Grand Prize Of Rs.250 is for Most Referrers !
LEADER-BOARD :-
Updated – 16th July 2015
1. Anup Hiromi – 243 Clicks
2. Raghav Jain – 212 Clicks
3. Aryan Pandey – 192 Clicks
4. Ritik Kumar – 168 Clicks
5. Naman Biraj – 162 Clicks
Random-Winners :-
Updated – 16th July 2015
1. Anup Hiromi – Top Referrer
2. Hansraj Kiraj – Lucky Participant
3. Memon Husen – Lucky New User
4. Pradeep Kumar – Lucky New User
Prizes :-
1st – Rs.50
2nd – Rs.50
3rd – Rs.25
4th – Rs.25
How To Claim ?
Winners please check your respective Mails to know how you can redeem your Prizes.
Terms and Conditions :
We owns the right to disqualify any of the participant who violates our terms.
All Prizes are eligible only for selected participants – "No criteria will be applied"
Contest can be shutted and can be changed anytime.
Token Codes are Required to enter into our Giveaway.
We have full rights to disqualify any of the user of they found guilty.
Refiral – Being our Partner No Violations will be encouraged .
We can anytime cancel your Recharge if we found you guilty.
No Spams and no abusment will be entertained.
Prizes are as mentions and can be anytime charged based upon the owner.
We owns each and every right so please contact us for details

[email protected]