Doing ETT / Ladooo Refers are seems to be impossible on Bluestacks ? But it is not so now – Here's a small guide how you can make such refers or in simple words how to Verify OTPs of Such Android Apps in Bluestacks.
After Knowing this Guide you can easily do Ladooo / ETT / Etc Refers in Bluestacks too – which will be more faster and better than Mobile Loot Tricks.
Requirements :-
Steps to Verify OTPs In Bluestacks :-
Firstly Open Bluestacks (Must be a Rooted Version – If not then make sure you download it from the above link).
Install Textra Messaging App and Fake Text Message App (Both) in Bluestacks.
Now Open Textra Message App and Click on "Make Default app" Option.
Now if in case, i want to verify Ladooo app in Bluestack then –
Firstly, I need to Install Ladoo App in Bluestack > Then I will an Unregistered Enter Mobile Number in Ladooo app and send OTP to Verify it.
Now within seconds you will get an OTP Message to that number > NowSee from Which of the Name they sent OTP Message, Ladoo send Verify SMS from "MM-Ladooo" or "DM-Ladooo" etc.
Move to Bluestacks again > Goto Contacts and Create a New Contact named same as you got messaged from like – "MM-Ladooo". Enter Mobile Number in which you received that message > Now Save it.

Now Open Fake Text message app & Create new fake message from newly created Contact Enter Full Message Which you Got via SMS like in Ladoo message format is like this "ladooo verification OTP 792479" Set Time & Date Right After one minute & Click on "Fake" Button.
So Now ! Right After 1 Minute Fake Messaging app will send same fake Message in Bluestacks and Ladooo will be accepting it as true one :p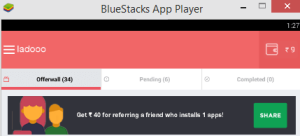 Ladooo app successfully Verified the OTP .
Texta App will act as Default Messaging app in Bluestacks. Google Hangouts can also be used for this purpose also.
Fake Message app will send a fake message from the Same Number and Same format which you have applied.
Saving Contact is Important as ladooo will be getting to know its Host Server Name which is Like – "MM-Ladooo"
You all must be having some doubts regarding this ?? Right ?
If it so do comment we will love to have some talks in Comments – You can also Directly chat with us (If we are online) use Zopim Chat plugin placed right at the right side of the webpage.