Hike Messenger – India's one of the widely used Messenger app allow you to stay connected with your friends and love ones. Indian style stickers and lot more customization available. They are now running a new Referral program in which you can earn free Hike SMS along with it earn Free Data with Hike. Here is a Simple trick to get talktime recharges instead of Data Recharges.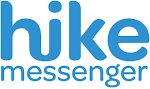 Update – Hike Prefix Trick is not working Now! Calls to that numbers are blocked by Hike 🙁
How to Get The offer :-
Download Hike Messenger app now – Click Here [Play Store]
Open the app and Enter your Mobile number to continue.
Verify your mobile number by the OTP Sent.
Once Verified Enter your Name and Age (One the next step).
Select Gender and proceed further.
Now you are a Hike User.
Refer and Earn Free Data offer is valid till 30th September 2015 only. Redeem your balance before the due date to avoid Cancellation. Earn 100 MB Data Per Referral means Rs.50 Recharge per referral!
Refer and Earn :-
Click on the arrow at top-right side.
Select "Invite friends" option.
Select platform to share hike.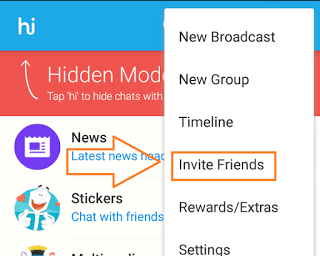 For each refer you will get Free Hike SMS + 50 MB Free Data per friend that joins hike on your refer. On Sign up you will get 20 MB Free data credited.
Checking / Redeeming Hike Data Balance :-
To know about the free data referral offer :-
Click on the arrow at top-right side.
Click on "Rewards/Extras".
At top most you will see "Data Rewards" Option > Tap on it.
Here you can see your data balance and other related information.
Once you earn atleast 100 MB Redeem it.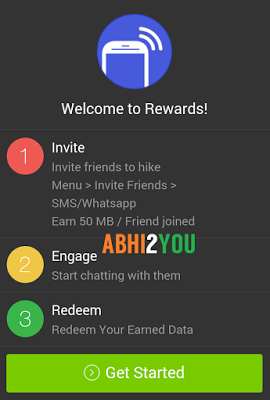 Trick to Get Talktime Recharges instead of Data Recharges :-
To know about the free data referral offer :-
Firstly open Hike Messenger app and Proceed to "Rewards/Extras" > "Data Rewards" Option.
Click on Redeem Button and Now Put Wrong operator details.
Click on "Recharge Now" Option.
Now You Will Get Failure Message.
On The Next Screen ,You Will See Option To Recharge Your Phone.
Now they will offer you 50% of the Data pack to do Mobile Recharge (100 MB = Rs 50 Recharge).
Enter your Number and Use it and recharge your phone.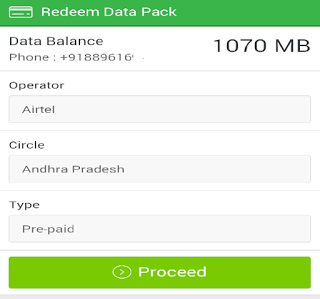 Normally We get 100 MB 3G Data around Rs.20 – Rs.30 but if you redeem through this trick you will get a Recharge worth Rs.50 🙂 Isn't it good ?


(Not Working Now) Trick to Get Unlimited Hike Refers from 1 Number :-

1st Part –
Get Hike app from here
Create a main account from a number in which you want recharge.
Copy your Referral link from Invite Friends section.
After getting your referral link Open Bluestacks Emulator in PC/Laptop.
Now paste your referral link in browser of Bluestacks and it will redirect you to Playstore.
Download hike from playstore and enter your unregistered number.
Verify it. Now you have got 100 Mb in your main hike account.
Now uninstall Hike app from bluestacks.
2nd Part –
Open BS-Tweaker and Change Android ID, Guid, Google advertising Id and restart Bluestacks.
Now again Install Hike from your own referral link (Backup trick will not work).

Now while Verifying enter "2 zero's" before your number (2 or 3 Digit Prefix),

Like your Number is 7814812787 > Add Prefix > 347814812787 .

Then For verification select Call Me option for getting your otp.

Change Prefix Each Times.
Some More Examples for Prefix Trick :-
Eg : 91009714818987
91929714818987
91939714818987
91949714818987

Like this you can enter and upto 91999714818987.
NOTE – +91 Will be already there before the number in Hike so Don't Put "91" which is our Country code.
Now for Unlimited Times just change 9192 by changing any random number (From 00 to 999)

Eg : 91059714818987 / 91599714818987 / 918789714818987

For each time you need to do a call verification only to get Otp.

Congratulations! For each time You'll get 100 Mb like that you will get Unlimited Data Pack.

So you can do it Unlimited Times and Earn Unlimited Data pack from hike. For unlimited times change android id, guid, google ad id and follow all steps again.

Not Just 10 Times its 1000 Times > Use Prefix from 00 to 999 !
Data Expenditure for 10 Refers is 160 MB and you are getting Rs.500 in which you can get more than 3000 MB 3G Data :p
Rooted Mobile Devices Loot :-
Uninstall the Original Hike app.
Get a Cloned Hike app from here (17 MB).
Login to your Hike account (In which you want recharges).
Get your Referral link now.
Change your Android ID and IMEI for Safety (Working without IMEI too).
Open your Referral link in Chrome or UC Browser to get redirected.
Download Hike app from Play Store and Open It.
Use Prefix trick to register and Voila! You will get 100 MB credited in your Hike account.
Again Repeat Process.
By Hike Cloned app it will be easier to see your Referrals each time. Means 1 Hike for Looting and 1 Hike will be stable for Recharging from the looted amount :p