An all new Ebay Initiative is here,
#YourVoiceTheirWorld
sponsored by OMRON and National Association for the Blind, Delhi – Which aims to create the world's largest audio-library of poems for the visually impaired.
This great initiative was working very hard from the last 3-4 years to spread the love for Blinds. But this year the initiative takes on an all new avatar with partnership of eBay India as #PayWithYourVoice to create something the world has never seen "the newest form of currency"- Your voice.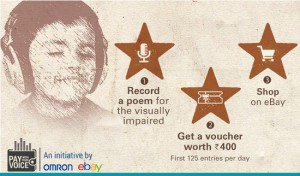 In order to make this initiative a success one – Ebay is offering Free Gift Vouchers – Just record your poem for visually impaired childs and post in on #YourVoiceTheirWorld .
Please don't just do this offer for Ebay Voucher. Donate your poem by voice recording and enrich the lives of thousands of visually impaired children! Be a good citizen of india and thank god that you are well enough.
How to Get the Offer ?
Visit the initiative page now – #YourVoiceTheirWorld
Choose between submitting your own poem or one from their database of existing famous poems.
Its Just 3 Steps Simple – "Choose – Record – Share"

Now Click on "Record" Button and login with your Facebook account ID.
Once you have done the Sign Up Process, you can record a poem for visually impaired using the web based tool or upload a poem that you have recorded earlier from your microphone or Mobiles. Remember to record in a quiet surrounding and speak slowly and clearly to make it a reliable audio!
Finally when you are done, click on submit and donate your recording. Congratulations! You have donated your precious time and affections to the blinds. Well Done Guys!
Winning Criteria :-
OMRON will make the selection as per the above criteria and will declare the first 125 participants who recorded the poem as winners within two business days from his/her participation date.
The winners will be notified through an email on the participants' email ID used for recording poem.
Winners under the Promotion will be gratified with flat Rs.400 off eBay coupon code.
Terms and Conditions :-
The promotion "Pay With Your Voice" shall be valid from October 5, 2015, till October 12, 2015 23:59:59 Hrs only.
The Promotion is valid ONLY for residents of India who are currently residing in India.
Participant must be 18 years of age or above in order to participate in the Promotion.
Participant must have a valid Facebook account in order to participate in the Promotion.
Participation in the Promotion does not require any purchase to be made on eBay.
A participant will not be gratified or declared as winner more than once during this Promotion Period.
Source – http://www.yourvoicetheirworld.com/contesttermsandconditions