Hotjar is an online service especially for those who have online business or involved in Web Developing. Hotjar provides useful tools to manage our Online Business. With Hotjar you can run free Surveys, Polls, Put useful forms on your site or blog and lot more with it. They give basic plans for free.
Not Only this refer other site owners and show your referral power and win exciting prizes such has Hotjar T-Shirts and you can also win a free Hotjar Business account for LIFETIME!
How to get the offer?
Simply Visit hotjar Website
Click on "Sign up for a New account" option.
Now enter your Details which are required.
On Step 2 enter your site name and address.
On the next step you will get a tracking code > Copy it and paste it in your site's template (Like in blogger Template > Edit HTML).
Paste that tracking code just before </head> tag and save it.
Wait for few seconds and click on Verify in Hotjar.
Once verified you are ready to Refer!!
Enjoy Hotjar services for your website or blog !!
Just refer 5 friends to win a Free Hotjar Official T-Shirt!
Prizes :-
The Top Referral every month receives a FREE LIFETIME BUSINESS account!
Top 5 referrers every month receive a Hotjar hoodie.
Refer 5 friends to receive an official Hotjar t-shirt.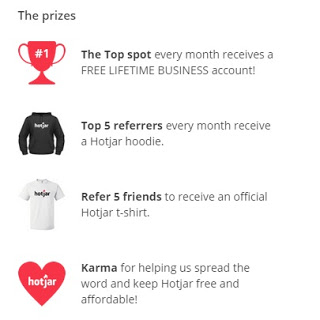 Thanks for visiting! Hope you liked it. Stay Tuned for more deals and offers!!