Hello A2Y Readers!
After a long time am going to post a loot trick, This time its about "Gigato" App famous for his Free Data Earning Offers but don't waste your time in completing offers simply follow our loot trick to get Unlimited Data Recharges.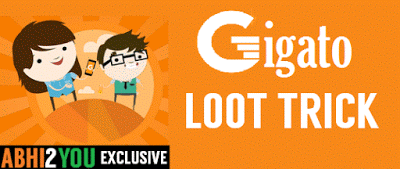 This Trick has been Tested and is 100% working Tested on 14th October 2015). We even added our Tutorial Video for this trick and in future also we will start posting loot video tutorials for the ease of our users. Hope our hard work will be appreciated!
Over : This Trick Has Been Blocked by Gigato Team Now!


Requirements :-
Yepme app (You can use other apps too)
Rooted Android Device (Most Important)
Steps to Follow :-
Firstly, Download all above given Required apps.
Open CheatDroid app > Search for "Gigato" in application list.
Select Gigato app and open "GIGATO.xml" > Copy the key given in "String_Recharge-Token" option.
Go Back and Now you have to replace "Mavin.db" with our cracked one.
Long tap on"Mavin.db" and select "Import from SD Card" Option.
Choose the File location where you have downloaded "Mavin.db" file.
Click on "Yes" to confirm the file replacement.

Open "Promotions" Tab in "Mavin.db" > Now make sure that "com.yepme" is there in "Package_name" Tab.
Go Back and Now open "Invoice Tab"> Paste the Recharge Token Key Now.
Randomize the "String:promo.unit.id" key with any replaced number (See the video).
Now Finally Save the Configs done in CheatDroid.
Goto Gigato app now, You will see 123 MB Data Earned there.

Use Yepme app for a while and again return to Gigato app.
You will be recharged with your reward soon now.
Tutorial Video :-

Visit us again for more!
Stay Updated and Do Subscribe our Youtube channel in order to support us in this field as we will be uploading loot tutorials time to time.