OneClass – is a Foreign Website you can see it similar to Courcekart site of india or even more enhanced. They Provides Free College Notes / Documents / Scholarships to students studying in various Colleges / Pay users for Uploading their Notes (Not For India At All). But their Referral System is open for all and we can earn through it and get Free Amazon Gift Vouchers!
So lets come to the point now. Refer and Earn Amazon Gift Vouchers!!
How to Get The offer :-
Fill up any random details & skip the course, department (keep skipping all annoying fields asked).
Now You will be redirected to your Dashboard once your account gets Setup.
You will get 60 points if you signed up using our referral link (Given Above).
Refer and Earn :-
There are many ways in this Site to earn Coins but all are just useless for us. Go for Refer and Earn Program. Where you will get 50 Coins for each friend you refer.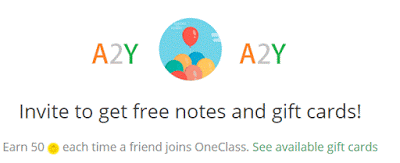 How to Get your Referral Link :-



In the top-right of the page you will see OneClass Logo of letter "O".
Click on it > You will get a Full menu including Invite and Gift Cards Option.
Click on Invite Button and get your Referral link on the next page.
Once you have earned atleast 800 Credits > Redeem it from Gift Cards Option.
Amazon Gift Card :-
800 Credits = 10$ Amazon Gift Voucher (Rs.650)
Other gift vouchers available are of no use for us 🙁
Redemption Process :-
Visit OneClass Gift Cards Option
Select Amazon Voucher.
You will be asked to Enter your Address Details.
Enter Any Name and Address.
Enter City as – ALLIANCE and State as ALBARTA
Enter Pincode as – "T0B0A0"
Now Click on Redeem Button.
You will be asked to verify your Email.
Verify your Mail through the mail sent!
Congro! You will receive your Gift Voucher within 10 Days.
Stay Tuned for More Loot Offers 🙂