SpeedKal is an all new Shopping Website with various electronics and home products. As a Promotional offer they are providing Free Calling to their Users so that we can save our Talktime calling our friends each time. Talk Unlimitedely to your friends and family members residing in India.
How to get the offer :-
Simply Visit the offer Page
Scroll a bit and you will see two text fields.
Asking your Number and your friend's number whom you wanna talk.
Enter both Numbers and Click on "Call Free" button.
Firstly, Your friend will receive a call and then it will be connected with your number.
You can now talk to your friend upto 1 minute for free.
You can call your friend again and again.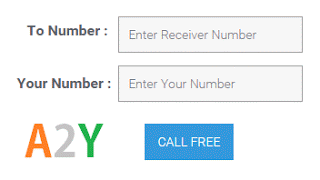 Calling Clarity is also very good and this will be very helpful for small duration calls. So make calls Absolutely free anywhere in India !!
If you appreciate our work then please make some efforts to Share it with your friends too. Thanks for Visiting.