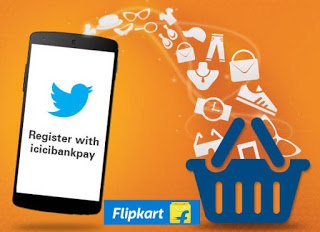 Good News for all ICICI Bank account Holder's just invest your little time and Register on ICICIbankpay through Twitter and Get Rs.100 Flipkart Voucher as a Token of Thanks . This Offer is Valid up till 29th February 2016 but only valid for ICICI Bank account Holders.
ICICI Bank's Offer Page – Click Here
How to Get The Offer :-
Visit ICICI Bank's Offer Page – Click Here
Click on Register Now button or directly visit @icicibank on twitter
Follow @icicibank on twitter and sent a direct message as below :-
Syntax : "#Reg <Mobile Number>"
Example : – #Reg 9889001122
You will soon receive an OTP (One Time Password) to that no. (Make sure you are entering your registered mobile number else you will not get your flipkart voucher).
Now Send that OTP with required Syntax via DM to verify your no.
Syntax : "#RegOTP <OTP Code>"
Example :- #RegOTP 865791
Now you will get your Flipkart Voucher within 21 days after validating your account and registered mobile number.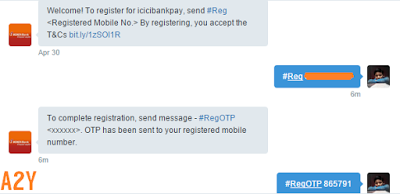 Terms and Conditions :-
Offer is valid for all customers who register on icicibankpay.
Offer is valid only for ICICI bank's Account holders.
Enter your Registered Mobile Number only.
One user can avail the offer only once.
Offer is valid till 29th February 2016.
Registrations are accepted though Twitter Platform Only.
After Validation you will get your Rs.100 Flipkart Egv within 21 days
message to your Mobile number.
For Query contact ICICI Bank.