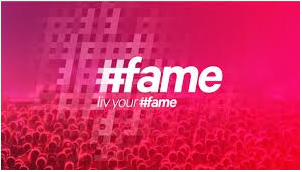 #fame app – Allows you to get connected with Bollywood Celebs, Celeb Shows, Musics, Comedy & Lots more Videos around India to you & for you. All you need is #fame to rock and show the world that you can make a difference with your live performances. A huge video community is waiting for you to dive in.
Note – Terms & Conditions as mentioned by fame app is not proper, It seems like when you download #fame app & refer a friend then you will get Rs.50 Paytm Cashback coupon. No other coupon can be earned through additional refers. Try at your own will!
As a promotional offer, #fame is offering an all new Refer & Earn Program. Now Get Rs.50 worth Paytm Cashback on on Sign Up (Valid on Recharges of Rs.200 or more) + Refer & Earn more such Paytm Coupons.
To check your earnings, please open the app and navigate to Invite Friends -> settings (top right of the screen). You'll receive the coupon code within 3 days (Maybe not instantly).
How to get The Offer :-



Download #fame app from here (Use this link to get reward on sign up)
Open App & Click on 'Go Live' Option
You will now be asked to Sign in / Sign up for a new #fame account
Sign Up using your Google / Facebook ID
Proceed to Select your #fame name & other required details.
Done! Your Account is ready to rock.
Click on 'Profile' icon at the Bottom-Right side > Click on 'Settings' icon at top-right side of the screen

Scroll down a bit & Just Tap on 'Refer & Earn' Option
Now you will get your Referral Link (Share it to earn more paytm coupons).
Click on Setting Icon at Top-Right to check your 'Referrals Count' & You will get your Coupon code there only.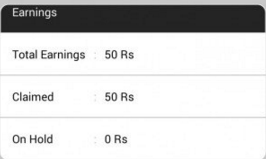 So what are you waiting for, Just go ahead& start referring your!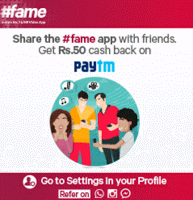 Terms & Conditions :-
1) For the purpose of this program: –
– An existing User of the Mobile App who invites his/her friends to download and use the Mobile App by sharing his/her referral code, shall be termed as the Referrer.
– A new user who downloads the Mobile App for the first time on a device on which Mobile App was not installed earlier, after using the referral code of an existing Mobile App User shall be termed as the Referee.
2. Subject to the terms and conditions mentioned herein, when a Referee downloads the Mobile App successfully, his/her Referrer shall receive third party rewards.
3. The Referrer shall be eligible to receive the referral reward, if and only if the following conditions are met:
– The device on which the Referee downloads the Mobile App, must not have installed the Mobile App earlier.
– The device on which the Referee downloads the Mobile App should not be rooted or Jail-broken.
– Neither the Referrer nor the Referee should install the Mobile App using App Runtime for Chrome, Emulators or Simulators.
4. Upon successful download by a Referee, provided all the conditions above are met:
– The Referrer shall receive the referral reward within 24 hours of download by Referee. Fame shall reserve the right, in our sole discretion, at any time and without prior notice to you to modify this waiting period.
– The Referrer shall be able to redeem these points immediately after receiving them. Fame shall reserve the right, in our sole discretion, at any time and without prior notice to you to modify this waiting period.
5. For each case of referral, the Referrer shall be eligible to receive the referral reward, if and only if the following conditions are met:
– The Referee in question meets all the eligibility criteria listed above.
– The Referee uses the referral code of the Referrer to download the Mobile app.
6. A user can send unlimited referral invitations through this program.
7. Rewards under this program shall be given in the form of third party rewards.
– Usage/redemption of such rewards shall also be subject to the respective third party's website's / mobile application's applicable terms and conditions.
8. Any fraud or abuse concerning the program is subject to strict administrative and / or legal action by us, including but not limited to reversal of referral reward and/or termination of membership. A fraud encompasses:
– If a user is found referring himself using multiple IDs or phone numbers
– Any other attempt to take unfair advantage, as deemed by us, of the Referral Program
9. Participation in the Referral Program may require you to submit personal information about you and the users you refer, such as name and email address. You agree to receive communications from us with regard to your participation in the Referral Program, and to allow us to communicate with your friends about your participation (for example, by disclosing to your friends that an invitation was sent by you). Any information collected from you or your referred users as part of the Referral Program shall be subject to Fame's Privacy Policy.
10. We reserve the right in our sole discretion at any time and without prior notice to you to add to, remove or otherwise change the terms of this program, including but not limited to:
– Modifying the amount of the referral rewards
– Modifying the eligibility criteria for the Referrer
– Modifying when the referral reward is given to the Referrer
– Modifying which third party reward may be rewarded to you
– Requiring minimum referred users, who also download the Mobile App, for you to be rewarded referral rewards
– Instituting a cap on the maximum number of successful referrals for which the Referrer earns rewards
– Modifying the maximum amount of referral rewards that one may earn
– Discontinuing the Referral Program entirely
11. We may, from time to time, post an updated version of these Terms on the Mobile App, and you shall be deemed to have accepted such changes by continuing to use the Mobile App or the Referral Program after the date such changes are posted.
12. This is a limited period offer and is subject to change, at the sole discretion of Fame.
13. Fame reserves the right to amend, modify, cancel, update or withdraw this Referral Program at any time without notice. Upon such premature suspension, inconvenience, cessation, withdrawal, termination or closure by the Company, no person shall be entitled to claim loss of any kind whatsoever.
14. This program is valid only on Mobile App (on Android and iOS platforms) and on no other websites/mobile applications. In case of any referral reward redemption related queries, kindly contact the respective third party reward provider.
15. Users agree to be bound by these "Terms", the "Terms of Use/Service", "Privacy Policy" and other relevant documentation that are available on Mobile App/website including any modifications, alterations or updates that we make.
16) All disputes arising out of the Referral Program shall be subject to the exclusive jurisdiction of the Courts in Mumbai, India.