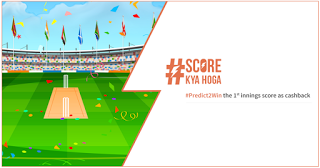 FreeCharge, Knows how to double the excitement of yours this Season of ICC world T20. You will get free tokens on Recharges of atleast Rs.50 done via FreeCharge web / App. Use these tokens to predict a score. If made right prediction then you might win FreeCharge Credits.
You need to Predict the 1st Inning Scores & use your token to get participated in this contest. Seems to be good? Below we have posted all required details regarding this offer.
If your Predict correctly your Cashback will equivalent to the score made by the team | Source – Click Here
Login / Register
Each time you recharge for Rs.50 or more you will get a free token (You can use any excising offer also on your recharge)
Now Simple Goto Menu > Rewards > Predict 2 Win
Select the match that is open for prediction. All matches happening on the day will be open for prediction.
Enter your prediction for the score of the 1st innings of the selected match.
The cost of the prediction is as below:
1. Before the 10th over of the 1st innings – 1 token
2. 10 – 15th over of the 1st innings – 2 tokens
3. 15th to 18th over of the 1st innings – 3 tokens.
Your prediction is registered! If your prediction is correct you will get a cashback of the score at the end of the match!
Terms & Conditions :-
Download the FreeCharge App ("App") on your Android device.
Do a transaction on (payment made to any of the comprehensive range of telecom/DTH/datacard operators or service providers available on www.Freecharge.in) on the App for not less than Rs. 50/-("Recharge").
On every successful Recharge of at least Rs 50, 1 token will be rewarded in the form of Tokens.
One additional token will be rewarded for every subsequent Rs. 50 spent on the App for that particular Recharge. (i.e. 3 tokens for a Recharge of Rs.150, 4 tokens for a Recharge of Rs.200 so on and so forth till a max of 6 tokens)
At any given point in time during the Offer Period, a participant will be entitled to accumulate not more than 6 (six) tokens per mobile number.
A single token can be then used once to enter the Predict 2 Win Program.
You can predict upto 20 times per match.
Prediction would be open till the 10th over of the match for 1 token, post that higher tokens might be deducted for the prediction till the 18th over