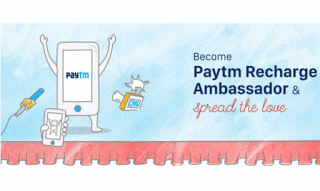 Paytm – India's Leading Online Recharging & Payment Service. Now Be a Part of Paytm's Recharge Ambassador Program, You will get flat 3.5% Cashback on every Paytm recharges you does without any promocode. This offer will be helpful for those who do bulk recharges every month.
Offer Source – Click Here
How to Apply for Paytm Recharge Ambassador ?



Please write to r

[email protected]

from your Paytm Registered email address.
P.S. To be able to get additional privileges in your account, initiate KYC process immediately at https://paytm.com/paytmwallet – Under "Request Wallet Upgrade" section.
Once accepted as an ambassador, you will be notified via SMS/Email.
To deactivate please write to

[email protected]

from your Paytm Registered email address. Deactivation will take 24-48 hours.
Paytm Recharge Ambassador Features :-
You will be rewarded with flat 3.5% cashback on all successful recharge/bill payment transactions.
Special incentives and value adds for ambassadors from time to time.
No upper limit on the cashback that you can get.
Amount will be paid within 2 working days of reaching minimum Rs.250 payout.
Payout will be in the form of Paytm Cash.
Once accepted into the program, you won't be able to use existing recharge promocodes.
Valid on Mobile Recharge, Mobile Bill Payment, D2h recharge, Data Card, Landline, Broadband, Electricity and Gas Bill Payments.
Orders placed using any promocode will not be considered for cashback.
Valid on transactions done for friends and family.
Not valid on Airtel Mobile/DTH Prepaid and Postpaid transactions.
Paytm reserves the right to modify/end any or all offers at their sole discretion.
Note – Once applied for Paytm Recharge Ambassador Program you will not be able use any further 'Paytm Recharge Coupons'.
F.A.Q. :-





Q1. How do i know if I have been accepted in ambassador program?
Ans. You will be notified by sms within 48 hours of acceptance (If your number is in DND, you won't receive SMS). Another way to check this is if you are not able to apply any promocode that means you are part of Recharge ambassador. You will see this error message.

Q2. When will i get my cashback?
Ans. You will get cashback within 48 hours of reaching minimum payout of Rs. 250. To reach this payout, you will have to do transactions worth Rs. 7150.
Q3. Is there any separate user id or password?
Ans. You will continue to use the existing login.
Q4. How much i earned till now? Where i can see my earned cashback? how can i track my recharge cashback?
Ans. You will get an email every Monday having details of your transaction amount and cashback earned.
Q5. Is there any minimum period to reach the cashback of Rs. 250?
Ans. No, there is no minimum period. You can continue to recharge on Paytm and as soon as you reach Rs.250, you will get cashback credited.
Q6. Can i use existing promocode like GRAB4 etc..?
Ans. As part of recharge ambassador, you will get flat 3.5% cashback and hence you won't be able to use existing promocode.
Q7. How do I deactivate ambassador program if I wish to?
Ans. Please drop a blank email to
[email protected]
from your registered email address and you will be removed from ambassador program within 48 hours.
Q8. Can I re-join the ambassador program after deactivating once?
Ans. Once deactivated, you will never be able to join the ambassador program again in future.
Q9. I have written to deactivate the program for my account but haven't heard back?
Ans. Please ensure you are not writing to
[email protected]
as this is to activate the program. You must drop an email to
[email protected]
.