FreeCharge is celebrating the New Year in a 'Loot-ful' way. Buy new & branded clothing from your nearest ShoppersStop outlet & best thing is that pay using your FreeCharge wallet and Get flat 10% additional cashback. Already ShoppersStop offers great discount offers, Combining both offer benefits will be just superb.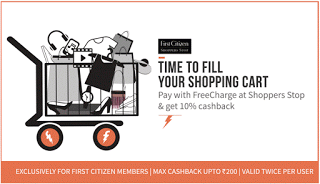 The Maximum Cashback amount is Rs.200 | Valid twice per user | Valid for SSL First Citizen members (Card Members) only
How to get the Offer :-
Visit any of your nearest ShoppersStop Store or HomeStop store
Shop for your favorite products.
Tell the cashier about the payment mode, which is freecharge. Enter your FreeCharge linked mobile number in the POS machine & FreeCharge PIN too (Available in FreeCharge's updated mobile app for instant offline payment).
P.S. Pin is available under "Pay at Merchant" option in FreeCharge app.
Your payment will be done and the same amount will be deducted from your freecharge wallet.
The cashback will be credited into the FreeCharge wallet of Card Members as a non-encashable cashback amount within three (3) working days from the date of purchase made by the Card Members as mentioned herein above
Terms and Conditions :-
This scheme refers to the 'FreeCharge 10% Cashback Offer' (offer). The scheme is valid in all stores of Shoppers Stop Limited (SSL) under the name of 'Shoppers Stop' across India including HomeStop, Mothercare (SSL operated stores) and SSL Airport Stores (the said Stores). However, this offer shall not be applicable on any purchases made from www.shoppersstop.com. The scheme is open to all SSL First Citizen members (Card Members) excluding the First Citizen Citibank Card Members
The Card Members can transact at any of the said stores for any amount using FreeCharge Wallet as the payment mode & get 10% cashback (cashback) up to maximum of Rs.200 cash back, whichever is less. For the purpose of this offer, 'FreeCharge Wallet' shall mean a pre-downloaded application which is mainly used as a payment wallet
The cashback will be credited into the FreeCharge wallet of Card Members as a non-encashable cashback amount within three (3) working days from the date of purchase made by the Card Members as mentioned herein above
Offer is valid from April 22, 2016 to May 31, 2016 (both days inclusive) (offer period)
This offer period may be further extended for such period as may be mutually decided by FreeCharge and SSL The said
Offer can be availed by the Card Members twice during the offer period i.e., using the FreeCharge Wallet in 2 separate transactions
In case of order cancellation using the Free Charge wallet, the cashback amount will be deducted by FreeCharge from the total refund due. SSL shall in no way be responsible for any order cancellation refund. However, SSL's standard return policy for its products shall be applicable
More details here – Visit here