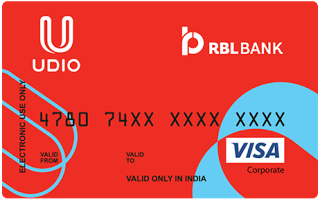 Udio Wallet – A new brand name given to Shmart wallet, is India's first Social Mobile Wallet loaded with superpowers for mobile recharges, payments & gifting experience. "#OwnIt Offer" – Now Get Free Rs.100 Cashback on activating Udio Visa Card + Rs.50 Meal Voucher also free. More details on this offer have been shared below.
Offer Source – Click here | The offer shall be valid from April 4,2016 11:00:00 hrs to April 30,2016 23:59:59 hrs
How to Get The Offer ?


Open the app & proceed Signing Up for a new Udio Account.
Enter all the required details such as Name, Email & Number.
Fill up your Udio Cash with atleast Rs.99 or more
Goto Menu > 'My Udio Card' Section
Now Order Udio Visa Card & Pay Rs.99 fee via your Udio Cash
Now Activate your Udio Card by the Card Number Received
Upon Successful Activation you will get Rs.100 Udio Cash & Rs.50 worth Meal Voucher hall be credited to the eligible user within 72 hours.
The below mentioned Terms and Conditions are applicable for the "#OwnIt Offer" which would be referred to as 'Offer'or 'Campaign'hereinafter in this document
By participating in this Offer,you are agreeing to the Terms &Conditions of the Offer. Any participation in this Offer is purely voluntary.
This offer would be applicable only on the latest version of Udio Wallet App available on Google Play Store.
This offer is applicable against 1st (1st) successful "order a card"transaction worth Rs.99 from Udio Wallet & activation of the same.
Once users receive the card via post,they can activate it by going to 'My Udio Card'section of the app
Upon successful Udio card activation,Rs.100 (Rupees One Hundred) Cashback &Rs.50 (Rupees Fifty) worth of Meal Voucher shall be credited to the eligible user.
This offer is applicable only to a pre-selected users who would be communicated via SMS or App notification.
Users outside the pre-selected list will not be eligible for the offer.
The offer shall be valid from April 4,2016 11:00:00 hrs to April 30,2016 23:59:59 hrs
TranServ Private Limited ("TranServ") reserves the right to change the offer-period and terms of offer without any prior notice.
The Cashback & Meal voucher shall not be credited instantaneously and would be credited only within 72 (seventy two) working hours of card activation.