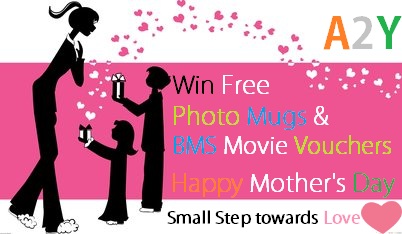 Welcome again guys to A2Y, Today the world is celebrating 'The Mother's day' for that person who never let you cry & helped you through out her life, made sacrifices only for you & what not. Mothers hold their children's hands for a short while, but their hearts forever.
The heart of a mother is a deep abyss at the bottom of which you will always find forgiveness – Honore de Balzac, author
We are giving away some free A2Y Personalized Mugs for your Mother (Absolutely Free of Cost) & BookmyShow Vouchers worth Rs.100. We have limited stocks so we are conducting a small Giveaway Contest. Participate & Share your best moment with your Mom ever & Get a chance to Win 😀
Thanks for being a part of this giveaway. Additional Winners will be declared by 9th May, 2016.
Prizes to be Won :-
A2Y Personalized Mugs for your Mother – 10 Winners
Bookmyshow Voucher worth Rs.100 – 20 Winners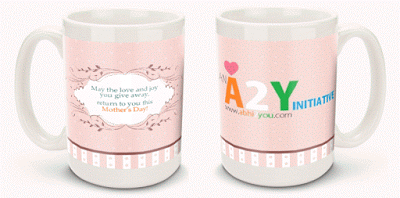 Click on the Image to Enlarge
Winning Criteria :-
A2Y Personalized Mugs for First 2 Comments on this Post
Bookmyshow Voucher for next 3 Comments on this Post
A2Y Personalized Mugs for 3 Most Link Sharers
Bookmyshow Voucher for next 5 Most Link Sharers
A2Y Personalized Mugs for 2 Best Moments (Social Media)
Bookmyshow Voucher for next 12 Best Moments (Social Media)
First Come! First Serve Winners :-
Most Referrals: Mug Winners :-
BookMyShow Voucher Winners :-
Note –
Winners are requested to mail us [
[email protected]
(.)com] in order to claim their winnings.!
How to Participate :-
Share this Post via Twitter (↓↓Use the button below to Share↓↓)
Tweet
You Can Share Selfies / Quotes & anything you like to share on our Twitter Handle with hashtag #HMDwithA2Y
Note –
We will pick up 10 & 12 Best Tweets we will be getting with hashtag
#HMDwithA2Y
on Twitter for Mugs & BMS Voucher respectively. So Must Tweet 😀
How to Refer your Friends & Win :-
Refer your friends to A2Y & tell them to participate in this contest.
Moreover you will get Free Prizes too if you are able to bring Most Clicks to our Blog.
To Generate your Referral Link – Goto https://goo.gl/ & Enter www.abhi2you.com & Generate the Short Link
Start Sharing it with your friends on Whatsapp, Facebook & etc.
Imp- Don't forgot to Mail us your Link or Comment your Link Below to get registered (It will help us to check the clicks you have driven to us)
Blog Owners are most welcome to participate & bring decent amount of clicks. Users who Gave more than 200 Clicks will be assured with some of the other prizes.
Note – You Can check your Click Stats by adding .info at the end of your referral link –> goo.gl/xxxx.info



Users who don't understand above steps, Just send us a mail [[email protected](.)com] with Subject – 'Send me my Referral Link' > We will send you the link so that you can share it 😀
Points to Take Care of :-
Offer is subjected to first come / first serve!
Make sure you atleast make 2 tasks in order to Participate in this contest. Given below:-
1) Comment on this post
2) Share this post on Facebook / Twitter
3) Generate your Referral Link & share it with your friends
4) Share your Selfies with your Mom & Best moments on our twitter Handle with hashtag #HMDwithA2Y
Users won will be requested to mail us within 48 hours to claim their winnings.
Free Mugs will be delivered within 15 days of your claiming.
No Spams and no abusment will be entertained.
Prizes are as mentions and can be anytime charged based upon the owner.
Contest is open for only A2Y Visitors & they can refer any one to join in it.
A2Y owns the right to reject any user who found guilty for this offer.
A2Y owns right to shut this offer anytime.
For any concerns & doubts you can mail us to [email protected](.)com