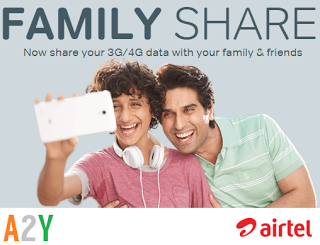 Airtel – India's Biggest and Largest Mobile Network with over 232 million subscriber making possibilities. Have you ever wondered that you can actually share your Data plan with your friends and family members?
Airtel Made it possible now – None other operator in India offering such thing. Activate Airtel Family Share now on your airtel mobile and start share your data plan, Now no need to recharge individually. Recharge in one mobile and enjoy seamless internet.
From one Airtel Mobile you can share your data with upto 5 individuals. Sharing only valid on 3G or 4G Data – Not on 2G network.

How to Get the offer ?
Enter your mobile number and Click on "GO" Button.

Now enter the OTP Received to verify your number.
Finally activate Airtel Data Sharing on your Phone.
Data Share Benefits :-
Get 3G speeds for your entire family with one recharge.
Ensure minimal data wastage.
Share data with your devices.
One-Click Online Activation.
Airtel Data Sharing TVC :-
Terms and Conditions :-
The 'MyAirtel Family' service allows a prepaid user to create a 'family' of upto five (5) members including himself/ herself and share his/her 3G or 4G data pack with them.
No sharing of 2G data packs is allowed.
The 'MyAirtel Family' service is free, i.e., there are no charges for creating a 'family'.
All members of the 'family' must be Airtel prepaid customers from the same telecom Circle (please note that Mumbai, Maharashtra, Kolkata, West Bengal, Uttar Pradesh (East), Uttar Pradesh (West), Chennai and Tamil Nadu each constitute an independent Circle.
A prepaid user cannot create more than one 'family' simultaneously. Similarly, a prepaid user can be a member/ beneficiary of only one 'family' simultaneously.
The user creating a 'family' (hereinafter referred to as "Owner") will not require the consent of other users to add them to a 'family'.
However, an added user (hereinafter referred to as "Member") may remove him/herself from the 'family' at any point in time by sending SMS <DEL> <space> <10 digit mobile number> to 121 or by logging on to www.airtel.in/family.
When a Member removes him/herself from a 'family', the Owner will be notified by SMS.
All Members will have unrestricted access to the shared data pack of the Owner. The Owner acknowledges and agrees that once a 'family' has been created, he/ she will not be able to restrict data usage of individual Members from the Owner's data pack.
Also, the Owner cannot allocate a portion of his/her data pack for sharing and once shared, the Owner's entire data pack is available to the Members.
In respect of the shared data pack, neither the Owner nor any Member will be able to monitor any Member's or Owner's usage behaviour or quantum of usage, whether in aggregate for all Members or for an individual Member and will not be provided any Member's usage information even from Airtel customer service or through other channels.
Once a 'family' has been created, every 3G or 4G data pack recharge of the Owner will be automatically shared with the 'family', until the Owner deletes the 'family'.
The Owner may delete the 'family' in whole or in part, at any point in time and no consent will be required from any Member.
A deleted member will be notified of deletion by SMS.