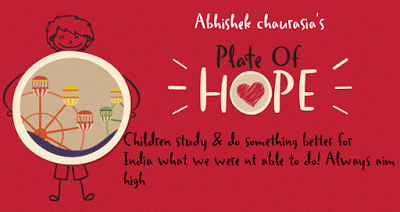 Hello guys, once again thank you for visiting my blog. This post will not help you to get some good offer or to loot some money, but this post is about the initiative KFC – Fast food restaurant running for hungry Child across India.
In India, more than 194.6 Million sleep hungry everyday & many of them even dies. Moreover, 58% of students (youths in India) suffer from diseases such as Marasmus & kwashiorkar due to improper diet. KFC has come forward to make Hope that no child sleep hungry in India.
Just Create a Hope in form of a KFC Digital Plate & KFC will give max 20,000 free meals to such hungry children! Make your hope now!!
You can browse other people's Plates from here
How to Get The Offer :-
Simply Scroll a bit down & Choose your Avatar
Now Select your Preferred Plate
Add a comment to your Plate (Optional)
Now enter your Name & Email & Click on 'Add Hope' Button
That's it! For your Good cause & time, KFC will b provide a hungry food for free on behave of you!
About KFC :-
Kentucky Fried Chicken (KFC) is one of the few brands that can boast a rich, decades-long history of success and innovation. It all started with one cook who created a soon-to-be world famous recipe more than 70 years ago, a list of secret herbs and spices scratched out on the back of the door to his kitchen.
The company is a subsidiary of Yum! Brands, a restaurant company that also owns the Pizza Hut and Taco Bell chains.