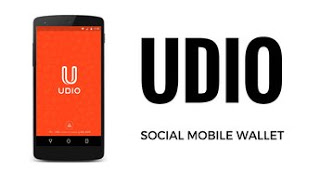 Udio Wallet – A new brand name given to Shmart wallet, is India's first Social Mobile Wallet loaded with superpowers for mobile recharges, payments & gifting experience. Get Flat Rs.50 Cashback on Recharges / Bill Payments of Rs.300 & Above for New Users. More details on this offer have been shared below.
Note – Offer is valid from May 3, 2016 19:00:00 hrs to May 13, 2016 23:59:59 hrs
How to Get The Offer ?
Open the app & proceed Signing Up for a new Udio Account.
Enter all the required details such as Name, Email & Number.
Fill up your Udio Cash with any amount you are required
Note- Firstly, you need to add some Udio Cash to shop / recharges / gift vouchers to your friend.
Once Money is added into your Udio Wallet, Your can proceed to recharge & avail the above offer
Click on U icon > Prepaid/ Postpaid/ Electricity/ Gas/ Landline Bill Payment > Select your Operator
Enter your Number & Proceed with the recharge amount.
Now Simply pay for your order using your Udio Cash – No Promocode Required
Once Completed! Your voucher shall not be credited instantaneously and would be credited only within 72 (seventy two) working hours of the completion of the successful transaction.
Please Make Sure – Don't do recharge by paying through online directly through the mode of payments like CC/DC/Netbanking. Firstly add balance to Udio wallet and then use it to recharge / purchase to get cashback.
By participating in this Offer, you are agreeing to the Terms & Conditions of the Offer. Any participation in this Offer is purely voluntary.
This Offer would be applicable only on the latest version of Udio Wallet App available on Google Play Store.
Cashback worth Rs.50 (Rupees Fifty) will be credited for successful Mobile prepaid recharge/postpaid bills/ DTH recharge/electricity/landline/ datacard/broadband/gas (except Indraprastha Gas) payment of Rs.300 (Rupees Three Hundred) & above during the offer period.
Any successful transaction below Rs.300 (Rupees two Hundred) will not be eligible for the offer.
The offer is valid for THREE times per New User.
This offer is applicable to New Users only Users who register on Udio app during the offer period.
The offer shall be valid from May 3, 2016 19:00:00 hrs to May 13, 2016 23:59:59 hrs. ("Offer Period") TranServ Private Limited ("TranServ") reserves the right to change the offer-period and terms of offer without any prior notice.
TranServ Private Limited ("TranServ") reserves the right to change the offer-period and terms of offer without any prior notice.
The cashback shall not be made instantaneously and would be credited only within 72 (seventy two) working hours of the completion of the successful transaction.
Only approved and validated spend/transaction/payment/purchase made using Udio Wallet shall be eligible for the Offer. Failed/Cancelled/Returned transactions shall not be eligible for the Offer.
The Offer cannot be combined with any other offers.
The Offer will be applicable for a Customer holding a valid and active Udio Wallet account. It is non-negotiable and non-transferrable and is valid for Indian residents and citizens only.
In the event of Udio Wallet account not having sufficient balance,wallet holders would have to first add money using Credit Card/Debit Card/Net Banking.
Source – Click here