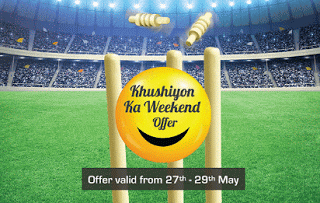 Videocon d2h has one of the most advanced technologies as compared to other dth service providers. There are no disruptions in Rainy season on Videocon d2h whereas this may not be the case with other dth services.
As a promotional offer, Videocon D2H is offering Sports Mega Pack Channel Subscription at Re.1 for full 30 days. Enjoy the best cricket in HD at just re.1
Offer is only valid from 27th May 2016 (00:00 AM) – 29th May 2016 (23:59 PM) only. You must subscribe within the offer period | Offer source
This offer can be availed by just a missed call.
Give a miss call on +91-8467996060 from your registered Videocon mobile number
To avail the offer price of Rs 1/-, the customer must subscribe to Topper Channel at any point of time during the mentioned offer period
You will be automatically activated for this offer & Re.1 will be debited from your account!
Note – After the 30 day's subscription period, the 'Sports Mega HD add on' will be auto renewed at the normal price of Rs 60 per month respectively as per the subscribed base packs. If you wanna deactivate it then call the customer care!
Terms & Conditions :-
The Offer is open ONLY to Videocon d2h Subscribers with having HD STB & an Active Account Status.
You must subscribe to 'Sports Mega Add-on' on the Offer Days between 00:00 hours on 27th May 2016 to 23:59:59 hours on 29th May 2016.
The Customer's account should be in active state to subscribe to 'Sports Mega HD Add-on'.
The Customer should have sufficient account balance to subscribe to 'HD Add-ons'.
Once subscribed @ Rs 1/-, 'Sports Mega HD Add-on' shall be available for 30 days & cannot be de-activated before that.
After the 30 day's subscription period, the 'Sports Mega HD add on' will be auto renewed at the normal price of Rs 60per month respectively as per the subscribed base packs.
If You want to discontinue the service post the Subscription Period, You need to call the customer care one day prior to offer completion date to get it deactivated, else it will continue on the regular price of Rs60 per month respectively as per the subscribed base packs, from the next month onwards, until requested for disconnection.
By opting for the Offer, You permit Videocon d2h to debit your d2h customer account with the applicable subscription fee during the Subscription Period and thereafter.
Existing subscribers on HD Add-ons cannot be Remove/Downgrade the add-on & then opt for the Offer during the Offer Period.
Source – Click Here