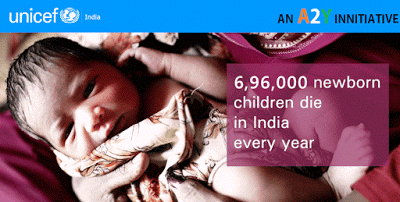 UNICEF or United Nations Children's fund is a United Nations Organisation working in India for children for a period of more than 60 years. UNICEF is the driving force that helps build a world where the rights of every child are realized. Together with a variety of partners at grassroots level to turn the most innovative ideas into reality for developing sustainable solutions for children.
You can make a difference in children's lives – by joining 'Guardians of Hope', a unique UNICEF's programme which aims to help children right from the time they are born to adulthood.
Your monthly contribution will ensure that children thrive and develop to their full potential and will also help UNICEF in India plan and implement long-term and long-lasting solutions for them.
We have joined this program & contributing Rs.800 per month towards Unicef India for the betterment of the future. Pledge you support today!
Take an Unicef India Initiative today :-
On the right side of the screen fill up the form with your Name, Email, Mobile Number & City
Click on 'Submit' Button
Enter the OTP you received & That's it! An executive will call you & guide you for further steps.
Note – Unicef runs under the Government of India & its 100% genuine, you don't need to worry that your money is going in the right place or not.
Each year in India there are 1.2 million deaths of children aged under five, accounting for more than a quarter (26 per cent) of the world's neo-natal deaths. It's a shocking statistic as much as it is heart-breaking to know that these lives could have been saved.
However, These are deaths that can be prevented by providing mothers and new-borns with access to essential and quality healthcare services – This is what Unicef is going in India!
This post is just for awareness purposes, as Money is not everything. We are humans and one human can only help the other. #ProveHumanity