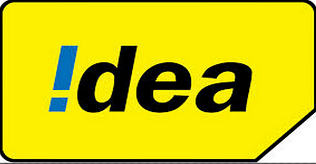 Idea Brings Back the Ultimate Happiness with Idea Super Challenge – Win Free paytm upto Rs.100 for free. You just need to send a message to participate in this Challenge – Answer Questions to Win Free Paytm Cash . Each Right Answer will Carry 20 Points – Answer 10 question during happy hours or 20 question during non-happy hours. Collect 200 Points to get Free Paytm Cash Code of Rs.100 (2 Point = Re.1).
Everyday between 6 PM – 11 PM Idea Happy Hour Occurs and during this period, you get 20 points per question and thus you can get paytm Rs. 100 coupon for Rs 10 only (Rs.2 Charges per Question).
Rs 2 will be deducted from your balance for every question asked and for each correct answer, you will get 10 points. When you get 200 points, you can redeem it for Rs 100 Idea Recharge. So you spend Rs 10 /Rs.20 and get Rs 100 paytm cash coupon.
In Happy hours you are just Spending Rs.10 to Grab Paytm Recharge coupon of Rs.100 [Working for Old users also]


How to Play Idea Super Challenge :-
To register to play Idea Challenge SMS – "CAR" to 53111
OR
Now Simply, Dial 53111 from your Idea Mobile to Play or Write a Message "PLAY" and send it to 53111 .
Answer Each Questions Correctly to get 10 Points per Answer.
Collect atleast 50 points for Rs.25 Paytm Cash or 200 points for Rs.100 paytm coupon or 500 Points for Rs.200 Paytm Cash Code.
After Collection Press 0 and then press 2 to collect your Paytm Cash Code (Calling Users).
Messgae "APRIZE" to 53111 to Confirm Redeem your Prize and Then Message "AP1" to 53111 to Get your Paytm Cash Code messaged (SMS Users).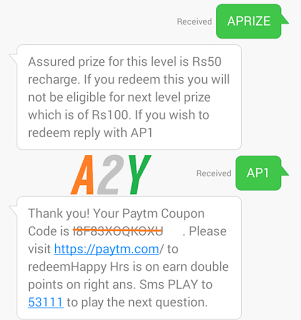 Note – Just play for 200 points and don't continue playing as there is no benefit of more points except some lucky prizes.
Redeeming Paytm Voucher :-
Visit Paytm and Sign up for a New account.
Proceed to Recharge Option
Enter your Idea Mobile number & State
Enter Amount as Rs.100 and Apply the promocode you got messaged.
Once Applied > Click on Pay Now Option
Congratulations! You have got Rs.100 Free Mobile Recharge!