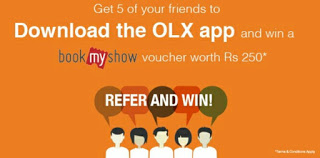 OLX Has Upgraded their Mobile app and Now Offering Refer and Earn – where you can refer your buddies to try this app and get Free Bookmyshow Vouchers worth Rs.250 / Per 5 Refers. Means You are getting Rs.50 Per Referral ! – Lets see full details below regarding this offer.
Note: Validation of installs may take up to 21 days. You will be mailed with your BMS voucher.
How to get the Offer ?
P.S. Download from this link to get your referral URL.
After Installation and Open it.
Visit My account > Sign in / Sign up there.
Proceed Further Open – Home
You will see the banner of Refer And Earn Campaign.
Click on that to get your referral URL.
A Link will open in your browser, Sign in there or Enter your detail to register
Now you are ready to make refers – Get your referral link and share it with your friends.
Make Sure that they download OLX app from your link only.
1 Referral = Rs.50 (Do 5 refers to get Rs.250 bookmyshow voucher).
How it Works ?
Get your friends to download the OLX app through your referral link
Share the link with your friends on Facebook, Twitter, WhatsApp or E-mail
Get Bookmyshow vouchers for every 5 app installs.
Terms & Conditions :-
This offer is valid from 26th April 2016 to 31st July 2016 and is only valid for a limited number of referrals
Any referrals or installs after the expiry of this offer shall not be attributed towards this offer
You will only be eligible to avail the reward i.e. Bookmyshow coupon worth INR 250 if at least five (5) of the persons you refer install OLX Mobile Classifieds Application on their mobile phone for the first time.
Only unique installs with the condition that the person referred opens the application at least twice on different days.
Bookmyshow Coupon codes will be emailed to you, at the email address provided by you, within 21 days of you becoming entitled for a reward.
OLX reserves the right to modify the terms of this offer at any point in time.
OLX shall have the sole right to disqualify you from participating in this offer for reasons such as fraud, misuse, etc.
This is merely a promotional offer and shall by no means be construed as a commitment by OLX to provide you the reward.
OLX reserves the right to require you to provide identification proof prior to delivering the reward to you.