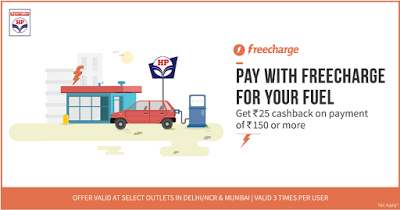 Wanna refuel your vehicle cashlessly? Why to waste your time & effort when you can pay your petrol pumps bills in just a click away. FreeCharge is offering flat Rs.25 Cashback on Rs.150 or more at Select HP Petrol Pumps. Offer can be availed upto 3 times per user.
Source – Click Here | Offer is valid from 5th July to 30th September 2016
How to get the Offer :-
Visit FreeCharge | Download FreeCharge app – Android | iOS | Windows
Login / Register
Load money in your Freecharge Wallet
Click on Pay Merchant to generate your #OnTheGo Pin
Enter your Mobile number & OnTheGo Pin on the card swipe machine
Enjoy the cashback in your Freecharge Wallet!
List of Applicable HP Centres :-
CAR CARE CENTRE N.S.RD – MUMBAI
COCO-BANDRA – MUMBAI
AUTO CARE CENTRE SEWREE – MUMBAI
UTO CARE CENTRE SION – MUMBAI
AUTO CARE CENTRE BANDRA – MUMBAI
AUTO CARE CENTRE BORIVALI (EAST) – MUMBAI
AUTO CARE CENTRE (VILE PARLE) – MUMBAI
AUTO CARE CENTRE CHAKALA – MUMBAI
AUTO CARE CENTRE BKC – MUMBAI
AUTO CARE CENTRE VASTRAPUR – AHMEDABAD
AUTO CARE CENTRE GHATLODIYA – AHMEDABAD
AUTO CARE CENTRE SHIVRANJANI – AHMEDABAD
AUTO CARE CENTRE BODAKDEV – AHMEDABAD
HP COMCO SOLA ROAD – AHMEDABAD
HP AUTO CARE CENTRE OLD AIRPORT ROAD – BANGALORE
HP AUTO CARE CENTRE DRDO – BANGALORE
HP AUTO CARE CENTRE YEDEHALLI – BANGALORE
HP AUTO CARE CENTRE HBR LAYOUT – BANGALORE
AUTO CARE CENTRE MOTI NAGAR – DELHI
AUTO CARE CENTRE PITAMPURA – DELHI
AUTO CARE CENTER – DELHI
COMCO PANTHEON ROAD – CHENNAI
COMPANY OWNED COMPANY OPERATED OUTLET – CHENNAI
COMCO MADHAVARAM – CHENNAI
COMCO-AUTO CARE CENTRE SRI BILOUCHI – JAIPUR
COMCO-AUTO CARE CENTRE SRI GOVINDAPURA – JAIPUR
HP CENTRE JAIPUR HP CENTER SEC – 62 NOIDA
HP CENTER SEC – 51 NOIDA
HP CENTER SEC – 82 NOIDA
HPCL T&E RMC – 1 RAJKOT
HPCL T & E RMC-II – RAJKOT
T AND E HP AUTO CENTRE MKT YARD – RAJKOT
AUTO CARE CENTRE SAROLI – SURAT
HP COMCO CITY LIGHT – SURAT
HP COMCO RANDHER – SURAT
AUTO CARE CENTRE (COMCO) KAMALA NAGAR KUSHAIGUDA – SECUNDERABAD
AUTO CARE CENTRE-EAST MARREDPALLY – SECUNDERABAD
HSD AUTO CARE CENTRE ALLAHABAD BYPASS – ALLAHABAD
HP CENTRE TRIVENI – ALLAHABAD
HP AUTO CARE CENTRE (COMCO) – AURANGABAD
HP AUTO CARE CENTRE WALUJ – AURANGABAD
AUTO CARE CENTRE KARELIBAUG – BARODA
CARE CENTRE VASNA – BARODA
COMCO HP AUTO CENTRE HINGNA – NAGPUR
H P AUTO CENTRE OLD BHANDARA ROAD – NAGPUR
MILLENNIUM PLUS – VISAKHAPATNAM
MILLENNIUM OUTLET – VISAKHAPATNAM
AUTO CARE CENTRE-VI BARASAT – BARASAT
H P AUTO CENTRE – BHOPAL
AUTO CARE CENTRE SEC 16 – FARIDABAD
AUTO CARE CENTRE GANDHINAGAR – GANDHINAGAR
AUTO CARE CENTRE GREATER NOIDA – GREATER NOIDA
HP AUTO CARE CENTRE – GURGAON
AUTO CARE CENTRE – HYDERABAD
HP AUTO CENTER – JAMNAGAR
JAMNAGAR T&E STATION – KOLKATA
HPCL COMCO – MANGALORE – MANGALORE
HP MATHURA – MATHURA
HP FUEL CENTRE TAJE – TAJE
AUTO CARE CENTRE NIZAMPURA – VADODARA
Terms and Conditions :-
Pay with Freecharge at HP Petrol Pumps & Get Flat Rs.25 cashback on minimum bill of Rs.150
Offer valid three times per user Offer applicable only at select HPCL outlets in Select cities where Freecharge is accepted
Offer is valid from 5th July to 30th September 2016
On successful transaction customer gets cashback as balance in the Freecharge Account within 24 hours which can be used for future transactions across merchant establishments accepting Freecharge as a payment mode
The entire invoice value has to be settled using Freecharge Wallet by Customer, partial payment not allowed
In case of order cancellation / refund, the cashback amount will be deducted from the total refund due
Cashback Amount will be in form of e-Voucher and valid for 6 months from the date of credit in Freecharge account
In case of Order cancellation, refund by FreeCharge wallet will be processed within 7 to 10 working days
This Offer is open to all FreeCharge Wallet Account holders whose accounts are valid and verified
The cashback Offer is non-transferable, non-binding and non‐encashable