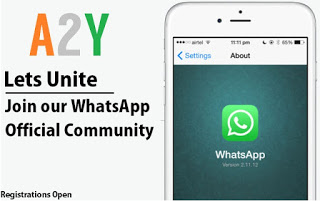 Right 1 year before, We have started our WhatsApp Broadcast Service & currently more than 5k peoples are subscribed & enabling us to create 20+ broadcast lists for them. Still many peoples won't receive our updates due to 'WhatsApp Terms' which claims that the receiver must have sender's mobile number saved to receive messages from him. Meanwhile, People used to ask questions by messaging us on whatsapp but its next to impossible for us. I hope you can understand.
We are now creating a WhatsApp group where you can ask direct questions to the admin, Get updates at the fastest possible, Enjoy weekly updates & lots of fun together.


Benefits of WhatsApp Group :-



Fastest Offers/Deals Updates
Community of 256 online shoppers & looters
Weekly Giveaway contests among members
No Spamming Promised [Violators will be instantly removed]
Ask questions to admin directly
No Buying or selling stuffs permitted
Just click below link from your mobile & join our group.
How to Join Our WhatsApp Group :-



Click below link & make sure your whatsapp is up to date
Link to Join Group – Click here to Join
You will be shown a confirmation > Click on Yes
That's it! You are a member of our group.
Rules to Mandatory to be followed :-
No Spamming is allowed
Off-topic contents allowed (Jokes, videos, etc)
Keep the group clean, Don't message uselessly – Message only if required
You may share offers but not permitted to post links of other blogs/websites
Weekly Giveaway organised on Admin's Will only. No Criteria Apply*
Admin may remove you anytime if he finds you spamming or without any reason too.
No Buying or Selling is allowed.
No Abusive language is allowed.
Please do follow our guidelines as we don't want other members to get upset by any means. Lets unite together & help everyone to save on every order they make online 🙂