Kolkata Knight Riders which is being captained by Gautam Gambhir & KKR Will not be making their fans sad. Register now on KKR official website. Earn / Score free KKR runs & you can use them to get cashback on your Meals from various stores. Offers are listed on KKR Site itself – Powered by Favcy.
You can purchase a Brooke Bond Red Label Tea (250 grams) from any of your nearest Supermarket
Getting Started with KKR :-


Visit KKR Official Website from here
At the Right-Bottom Click on Floating 'Login' Button
Authorize KKR from your Facebook account to acquire the required account details important for registration process.
Now Enter your Mobile number & Complete sign up process.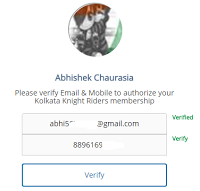 Once Completed, You will get 100 KKR Runs free on Sign Up.
Complete Small Tasks such as Sharing, Visiting, liking & etc to score more runs.
Sync your twitter account & get 20 runs, On each Tweet you will be rewarded more 5 runs.

How to avail the Offer :-
At the right-bottom of the screen click on the same button showing your KKR Runs.

Move to 'Offers' Tab > 'Pay 194 KKR Run(s) and a Brooke Bond Red Label Tea (250 grams) is on us'
Click on 'Get Offer' Option of your desired offers listing.
Read the Instructions & Steps Provided carefully for each offer.
Select the offer & pay the required KKR Points to register for it.
Visit your nearest Offer / KKR Partnered Outlet & Make the purchase normally for the product listed on KKR Site as offer.
Upload the bill of your purchase & you will receive advance cash as listed on KKR Site
You will get this amount directly into your bank after 4% Tax Deduction.
Sample Photo :-
Once purchased, just take a picture from the back side as shown in the image below such that the Price & Manufacture's barcode is including perfectly. You will receive your Fanvy Amount within 4-5 days then you may transfer it in your bank by a regular charge of 4% only.