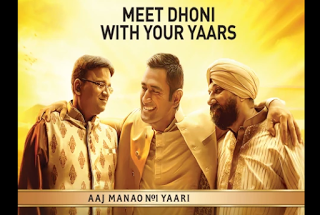 McDowell's No1 Soda celebrates the bonds of true friendship in a unique and soul stirring video with MS Dhoni (Mahi) and his childhood friends (yaars),who have come together for the first time to show the world their #No1Yaari that has transcended through the years.
The trio from Ranchi, have been together through thick and thin, and never resist celebrating their asli yaari at every opportunity they receive. Mahi and his friends have seen each other through all the hardships and successes and have always stood by each other's side.
"A lot has changed over the years but one thing that has remained constant and by my side is my true friendship. Even though we are not able to meet each other very often, but whenever we do, we start from where we last left. Over the years this bond of brotherhood has only become stronger. This video by McDowell's No1 Soda rebuilds our priceless moments and makes me cherish my yaari even more," – MS Dhoni.
About 'No1Yaari' campaign by McDowell's No.1 Soda :-
McDowell's No.1 is an Indian brand of spirits manufactured by United Spirits Limited (USL), a subsidiary of the DIAGEO Group. It is USL's flagship brand and the largest umbrella spirits brand in the world, comprising three categories – whisky, brandy and Celebration Rum.
In 2014, McDowell's No1 Soda launched the 'No1Yaari' campaign with a 7-minute digital short film which has garnered over 11 million views and features a truly heart-warming song by Mohit Chauhan to honour those cherished, meaningful friendships that enrich our lives.
This time McDowells's No.1 has made a short film that gives you a glimpse of MS Dhoni, the Indian Cricketing Legend and his asli yaari as he goes back to meet his closest friends in his hometown, Ranchi. Its the real of real story!