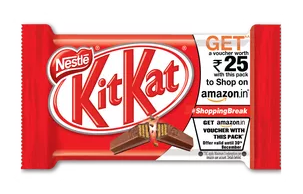 Amazon & Kitkat has come together with an amazing sort of offer, Buy KitKat worth Rs.20 or Rs.25 & have a break. Not only have a break but also have some shoppings too. Yes you heard it right, you will get Amazon Gift Voucher of the same amount which you have spend on KitKat. Isn't it awesome?
You will get Rs.20 & Rs.25 Amazon Gift Voucher on purchase of kitkat worth Rs.20 or Rs.25 Respectively.
Offer Source – Click Here
How to Get the Offer :-
Buy a Kitkat worth Rs.20 or Rs.25 from your nearest supermarket
Make sure its the new pack only with the offer mentioned on it.
Have your Good time with Kitkat & inside the packet you will get a scratch card containing a 17 character code.
Erase the scratch under the heading 'Voucher code'
Now Visit here www.amazon.in/addgiftvoucher
Enter the code & Click on Add Now
That's it !! Rs 20 or Rs 25 will be instantly added to your amazon account.
You can use the amazon balance to purchase anything from it.
Terms & Conditions:-


For Terms & Conditions & FAQ please refer here