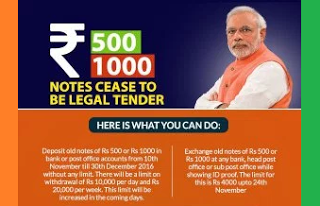 A revolutionary news coming in from the Speech of Prime Minister of India, Narendra Modi which began at 8 PM today. This is totally to stop & block the black money. Rs.500 & Rs.1000 notes will become completely invalid from 9th November midnight onwards.
This message was being circulated a lot on social media but i personally ignored some of them thought that it might be fake message. But after that everywhere this news was getting circulated whether it is a News Channel, Social Media. However, Government hospitals, pharmacies at such hospitals, railway ticket counters, petrol pumps and few other places will accept the notes till 11th Nov 2016 for the respite of people.




What will happen to old Rs.500 & Rs.1000 Notes?
If you have Rs.500 & Rs.1000 notes in your home, don't worry visit your respective banks or head post office to get it exchanged by showing them an ID proof such as Aadhar Card etc. The limit for this is however Rs 4000 upto November 24th. Also there'll be a limit on withdrawal of Rs 10,000 per day and Rs 20,000 per week. There would be no restrictions of any kind on non-cash payments by cheques, demand drafts, debit or credit cards and electronic fund transfers.
You can get all your money exchanged by 30th December, 2016. The banks will be closed on November 9.
Why such steps has been taken by Our PM ?
In the recent years, India has faced all types of tragedies & ill-treatments whether it is related to terrorism, corruption, poverty, Illiteracy, etc. The Government has come to the conclusion that Black Money is the one that is holding India back from what it is looking to achieve.
Modi, Earlier had announced that people can declare their income by September 30 and no action will be taken against them and as a result of that, 1.5 Lakh Crores were recovered by the Govt.
After this move, people having illegal money will have no option but to see their black money turning into useless paper and counterfeit notes of fake notes will also be eradicated from the country which will lead to a rapid reduction in Black Money and Terrorism. This is the reason, this is a bold and good move by the Government.
Benefits of this Move ?


1) Recovery of Black Money will be faster like never before
2) Real Estate Prices, Higher prices, healthcare to come within the reach of common citizens
3) Funding for arms smuggling, espionage, terrorists to be choked
4) Circulation of large volume of counterfeit currency to end
Maximum Value Note will be Rs.100 ?


The Answer to this question is No, As our Government is bringing Rs.500 & Rs.2000 notes which will be soon circulated countrywide. Think if you are buying some appliances you need to pay multiple Rs.100 notes which will be so much bulky to carry.
New Fact: The new notes will be called Mahatma Gandhi's series of bank notes and carry a picture of Delhi's Red Fort. The 2000 rupee note that is being introduced carries an image of the Mangalyaan to celebrate India's Mars mission. Isn't awesome?
Why Government has bought Rs.2000 Notes :-
The Rs 2000 currency is designed keeping in mind to eradicate the black money issues using state of the art indigenous nano technology, every Rs. 2000 currency note is embedded with a *NGC (Nano GPS Chip).
How the embeded NGC Technology Works?*
The unique feature of the NGC is it dosent need any power source. It only acts as a signal reflector. When a Satellite sends a signal requesting location the NGC reflects back the signal from the location, giving precise location coordinates, and the serial number of the currency back to the satellite, this way every NGC embedded currency can be easily tracked & located even if it is kept 120 meters below ground level. The NGC cant be tampered with or removed without damaging the currency note
How will this help eradicate black money menace?
Since every NGC embeded currency can be tracked. The satellite can identify the exact amount of money stored at a certain location. If a relatively high concentration of currency is found a certain location for a longer period of time at suspicious locations other than banks & other financial institutions. The information will be passed on to the Income Tax Department for further investigation
Main Highlights :-
All Rs 500 and Rs 1000 currency notes will be invalid for use from 9th Nov 2016
But such notes will be accepted at various Government Hospitals, railway ticket counters, petrol pumps, Airline Counters, Govt Bus Counters, consumer co-operative stores authorised by Central & State Government, Milk booths authorised by State Govts crematoria & burial grounds till 11th November
New notes of Rs 500 and Rs 2000 denomination with new design will be circulated soon in the market
People can get their old notes exchanged from or deposited to Banks or Post Offices till 30th Dec by showing Proof of Identity and from 30th Dec to 31st March by showing an additional Declaration of Income.
There will be a limit of Rs 4000 per day till 24th Nov which will be increased gradually
There is no limited on Cheque, draft, FD, Online transactions.