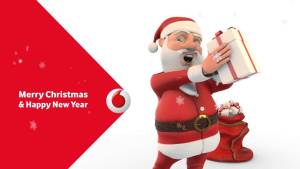 My Vodafone app is a one-stop destination for managing your Vodafone account, bill payments, mobile recharges, buying bonus cards and checking mobile usage. You can also discover your exclusive 121 offers for recharge packs, internet plans (2G/3G) etc.
As a promotional offer, Vodafone is offering Upto 1.2 GB 3G/4G Data Absolutely Free on Just spotting the Santa in Vodafone App. We have added the locations also of the Santa where you can find them & Get most benefits of this offer.
Offer Highlights :-


100 MB 3G/4G Data on spotting 1 Santa
400 MB 3G/4G Data on spotting 4 Santas
1.2 GB 3G/4G Data on spotting all 8 Santas
How to Get the Offer :-
Click on Register / Login Option
Once Logged in, Search All the screen within to app to spot the Santa
Tap the Santa icon in order to reveal your gift
Your Free Data will be credited within 72 hours by Santa
Enjoy the deal!
Santa Gift Locations :-
Gift 1: 'Amazing Offers for You' Section on the Homepage & Spot the Santa
Gift 2: Goto 'Shop' > 'Internet' to spot the 2nd Santa
Gift 3: Open your 'Active Data' & Balance page & Spot the Santa
Gift 4: Open 'Vodafone Flex' > Scroll Down to 'See Flex FAQ' & Spot the Santa
Terms & Conditions :-
Offer Valid till 15th January 2017
Data will be credited within 72 hours of spotting the Gifts
Gifts are hidden within the app only
A total of 8 Gifts is hidden in various sections of the app
100 MB data is valid for 3 days after the credit
400 MB data is valid for next 3 days after the credit
1.2 GB Data is valid for 10 days upon spotting all 8 Gifts