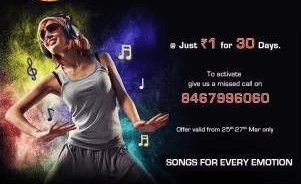 Videocon d2h has one of the most advanced technologies as compared to other dth service providers. There are no disruptions in Rainy season on Videocon d2h whereas this may not be the case with other dth services.
As a Promotion offer , VideoCon D2H Offering Active Music World with 20 Channels at Rs 1 Only For 20 Days. Enjoy the Active Music At Rs 1 Only. Hurry Up Grab it Fast.
How to Grab this offer:-
Give a miss call on +91-8467996060 from your registered Videocon mobile number
You will be automatically activated for this offer & Re.1 will be debited from your account!
That's it! Enjoy your deal.
Offer Eligibility:-
The offer is open only to Videocon D2H Subscribers Having An Active account Status
You must Subscribe to ' Active Music World' on the Offer Days Between 23rd December, 2016 to 25th December, 2016.
Note – After the 30 day's subscription period, the 'Active Music World Add' will be auto renewed at the normal price of Rs 25 per month respectively as per the subscribed base packs. If you wanna deactivate it then call the customer care!
Terms & Conditions :-
As such the Active Music World Add on is available on for a monthly price of Rs 25/-, however only during the Offer Days subscriber can subscribe the Active Music World Add on at the Offer Price.
To avail the offer price of Rs 1/-, the subscriber must subscribe to Active Music World Add on at any point of time during the mentioned offer period between 5th to 7th August!
The subscriber's account should be in active state to subscribe to 'Active Music World'.
The subscriber should have sufficient account balance to subscribe to 'Active Music World'.
Once subscribed @ Rs 1/-, 'Active Music World' shall be available for 30 days & cannot be de-activated before that.
After the 30 day's subscription period, the 'Active Music World' will be auto renewed at the normal price of Rs 25/- or such price prevailing at that stage
Terms and conditions as mentioned herein are subject to change, without prior intimation.
Source – Click Here