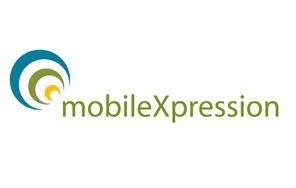 MobileXpression is a Survey and research community which research on mobile users behaviors to make a good digital products For this they give rewards points to its users who install their app and help their research. Earn points by completing each of the given surveys on your wall. Redeem your points in order to obtain free Amazon Gift voucher.
To avail this offer, you have to check your eligibility first, if you are eligible then install the mobileXpression app. It collects data of daily mobile uses behavior and for this activity you get some points (2-5 points) each week. When you reach 10 or 20 point you can redeem amazon gift voucher from these points.
This site is 100% trusted & genuine | Surveys are available for a short time only based upon your City & Pincode – Follow their Guidelines & Compete tasks!
How to Avail this 
Offer 

?
Check your eligibility by visiting the above provided link.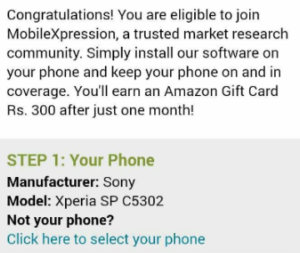 Now on Step 2nd, fill all the required details correctly & submit it.
Now You see MobileXpression app download link.
Click on the link you go to play store just install the app.
Open the app and login with your detail which you created in the 3rd step.
That's it! Keep this app & earn points every week!
How to Claim the 
Reward 

:-
Points will be credited every week in your MobileXpression app
Open your app and Click on Claim Points button if you have enough points
Claim your prize & don't uninstall this app
Submit your detail to receive your gift vouchers in your email.
You will receive your Amazon gift card emailed within 2-3 days.
Goto Amazon.in in order to use the voucher!
Proof will be soon added!
MobileXpression Important 
Notes 

:-
For claiming Your amazon vouchers minimum 30 days app should be active on your phone
This app send all your data for research so before proceed think about your online privacy.
Uninstalling this app will result to blockage / cancellation of rewards.
Do't try to cheat they block account instant.
For more detail contact their support team.