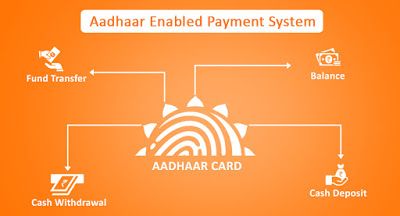 National Payments Corporation of India is the umbrella organisation for all retail payment systems in India, which aims to allow all Indian citizens to have unrestricted access to e-payment services.
NPCI Recently introduced the 2 new e-payment facility of UPI & AEPS. In Simple words both of these Facilities are beneficiary in their own Ways. Let us see how to use it, Benefits & Requirements for them.
What is 
UPI 

?

UPI is a payment system that allows money transfer between any two bank accounts by using a smartphone. UPI allows a customer to pay directly from a bank account to different merchants, both online and offline, without the hassle of typing credit card details, IFSC code, or net banking/wallet passwords.
In order to make / receive UPI Payments, User is required to create his VPA (Virtual Payment Address) this may be done with thousands of Banking apps available in Play Store such as Pockets, PhonePe, ICICI Bank, HDFC, etc
There's a transfer limit of Rs. 1 Lakh per day using UPI Payments, as per the government regulation and no limit on receiving the money!
UPI Supported 
Apps 

?

In order to get Started using UPI, you are required to Download any of the below preferred app & Create your VPA & Set a PIN to make your UPI Transactions Secured & You are ready to go!
What is 
AEPS 

?

Aadhaar Enabled Payment System (AEPS) is a way to get money from the bank account. This system of getting money neither requires your signature nor Debit card. You don't even need to visit a bank branch for getting money through the Aadhaar Enabled Payment System. Rather, it uses Aadhaar data for the authentication. Like UPI and USSD, this is another initiative by the NPCI.

You can Check your Bank Balance, Deposit / withdraw Cash from your Bank Account & Transfer Funds from Aadhaar to Aadhaar easily via AEPS.
Requirements for 
AEPS 

?

In order to use AEPS, your Bank Account should be linked with your Aadhar Card. If it is not then visit your bank branch & do so in order to use AEPS.Below are the other requirements for AEPS you must be having :-
Aadhaar Number
Bank IIN or Name
Fingerprint
Why Aadhaar for 
Authentication 

?

Remember when you have applied for an Aadhaar Card your Bio-metric Data were recorded including your Fingerprints & Iris image. These two biometric datas differs person to person & no one could have the same Biometric data of some other people. Thus, Aadhaar based Authentication is the most secured form of Authentication in India right now. Government bought AEPS in order to make the most use of this Truth.
How
Aadhaar

Based Authentication Works ?

Aadhaar Based Authentication simply works upon your fingerprint. Suppose you are claiming to be Abhishek & Visited a Mall to shop some clothing. At the time of payment you prefer to pay using AEPS, The Cashier will now Ask for your Aadhaar Card Number & Take your Fingerprint in his POS Machine.

The POS Machine is connected Online through Internet & it simply Tallies your Captured Fingerprint to the old one which you have registered while the time of Registration of your Aadhaar Card & If the Result is the same, it will simply make the transaction & Money will be debited from your Bank account & would be paid to the Shop Owner's Account.
Major Benefits of 
AEPS 

?

AEPS has many benefits of his own, Unlike UPI which is bit complex & includes the usage of Mobile App & sometimes users have to remeber their VPA also to receive payments. Moreover, In UPI you set a 4 or 6 Digit Secure PIN to make your Transactions Secure but AEPS don't have such complexities.
No OTP / PIN Needed to make your Transaction, just your fingerprint would do the Authentication
Its Amazingly fast than any other Payment method
No Fraudulent activity would be encountered as it works on Bio-Metric Data Authentication
No Need to Carry any Debit Card now for payments, you are just required to carry a photocopy of your aadhar or Remember your Aadhar Number
Easily transfer Funds through Aadhaar to Aadhaar
Charges of 
AEPS 

?

Unlike UPI, the AEPS is a relatively costly transaction. It can go upto Rs 15 for one transaction. On the other hand UPI charge is free to nominal. For AEPS, three institution involved can charge fees.
UIDAI may charge a nominal fees for authentication, however it is not charging yet.
The NPCI charges 10 paise for authentication and 25 paise for settlement.
The bank can charge 1% of the transaction value if it is related to other bank.
The minimum fess for other bank transaction would be Rs 5 and maximum fees would be Rs 15.