Looking to purchase an advanced smartphone that combines design with functionality without denting your wallet? A purchase which will give you selfies like Oppo, Vivo advertises for? A purchase which will give you good selfie camera with Selfie flash, no matter sunlight or moon light flash?
Redmi Y1 available exclusively on Amazon India, enjoy great features such as 5.5″ Inch HD display, quad-core Snapdragon 435 processor, 16-megapixel selfie camera, 3080 mAh battery, fingerprint + dual sim + microsd dedicated slot and more.
Next Sale on 27th December, 2017 at 12 PM
How to Get the Mi
Redmi

Y1 & Y1 Lite :-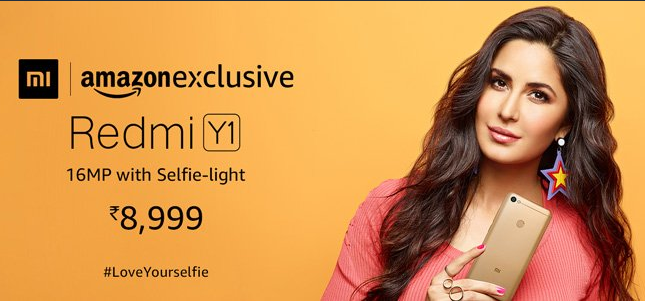 Redmi Y1 Variants :-
3GB RAM & 32GB Internal Storage at Rs.8,999
4GB RAM & 64GB Internal Storage at Rs.10,999
Redmi Y1 Product Highlights & Specs :-
Redmi Y1 Comes in 2 variants 3GB and 32GB variant which costs for Rs.8,999 and the other is 4GB and 64 GB internal storage variant which comes for Rs.10,999.
Buy Mi Redmi Y1 now at Rs.8,999/-
Qualcomm Snapdragon 435 CPU
5-5″ Inch Full HD Pixel Screen
Support of MiUi9
3080 mAh Battery
Dedicated Sim try (Expandable Storage Capacity of 128 GB)
Fingerprint / Infrared Remote / voLTE Support
16MP Selfie camera with LED Flash for selfie
13 MP rear camera
Redmi Y1 Lite Product Highlights & Specs :-
Redmi Y1 Lite is more cheaper version of Mi Redmi Y1 which lacks high end Selfie camera and LED Flash, fingerprint, CPU and RAM is downgraded. Whereas, Design, Battery, screen, software remains the same as in Y1.
Buy Mi Redmi Y1 Lite at Rs.6,999 /-
5 MP with f/2 aperture Selfie Camera (No Flash)
13 MP with f/2.2 aperture Rear Camera
Qualcomm Snapdragon 425 CPU
5-5″ Inch Full HD Pixel Screen
Support of MiUi9 | 2GB RAM
3080 mAh Battery
Dedicated Sim try (Expandable Storage Capacity of 128 GB)
Infrared Remote / voLTE Support