As you all know BigBazaar is coming back with their Sale of 'Sabse Saste 5 Din Maha Sale' where items will be on discounted prices for your monthly shopping. Big Bazaar to make huge buzz regarding their sale, now back with another exciting offer with which you can win Free Shopping & assured gift vouchers/coupons worth Rs 100.
Deal Sky Fall is a skill based game which incentivizes users to play , earn points & convert them into coupons to Shop during Sabse Sabse 5 Din from 24th jan – 28th jan 2018 across Big Bazaar stores.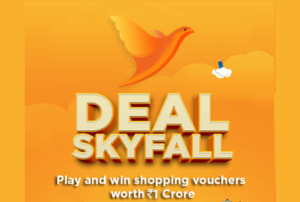 Users can play the game from 16th Jan 2018 till 22nd Jan ,2018
How to Avail the Offer?
Enter your Name & Mobile Number to start
Click on '?' Mark button to get to know how to play the Game
Once you understood, Click on Play '>' Button to start playing
Try to collect as many points as you can!
Top 100 Players with most points will win Free shopping between 24th – 28th Jan, 2018
Redemption of coupons against points?
Try to earn 20,000 points if possible so that you can get a BigBazaar Gift voucher / coupon worth Rs 100. This Coupon you can redeem on your Bill while shopping at Big Bazaar between 24th -28th Jan 2018. Redemption against points are as follows:
10,000+ points = ₹50
15,000+ points = ₹75
20,000+ points = ₹100
Deal Skyfall: Terms & Conditions :-
Deal Sky Fall is a skill based game which incentivizes users to play , earn points & convert them into coupons to Shop during Sabse Sabse 5 Din from 24th jan – 28th jan 2018 across Big Bazaar stores
Users can play the game from 16th Jan 2018 till 22nd Jan ,2018 , 11:59pm .
On 23rd Jan 2018 , users will receive an SMS with coupon code which can be used across Big Bazaar stores from 24th -28th Jan 2018
Only 1 coupon can be used/redeemed against one bill during shopping between 24th -28th Jan 2018
Redemption against points are as follows:
10,000+ points = ₹50
15,000+ points = ₹75
20,000+ points = ₹100
FRL shall not be liable in the event it fails to fulfil any of its obligations under this terms and conditions due to flood, earthquake, storm, cyclone or any other acts of god of similar nature, war, strike, lockout, or governmental or judicial or quasi-judicial policies/intervention/direction /prohibition or change in law or for any technology/network failure or any other reasons beyond its control.
In case of any dispute, the decision of FRL shall be final and binding on all concerned and Courts in Mumbai shall have exclusive Jurisdiction.
FRL reserves the right to modify these Terms and Conditions and such changes shall be deemed effective immediately.
Visit www.bigbazaar.com to know more about Sabse Sabste 5 Din offers