Paytm Payments Bank is now offering RuPay Debit Card at a nominal cost of Rs 120 for 1st Year + Upto Rs 60 on using your card at ATM/POS. You can use this Debit Card to Make any POS Machine Transactions or ATM Withdrawals too.
Paytm Payments bank is known for its digital operation and ease of doing online banking. Paytm offers in-App UPI, Transfer support + special offers for their Bank account holders keep coming frequently.
Paytm will benefit you with Rs 20 n your 1st ATM withdrawal of Rs 250 or more or your First 3 POS transactions, If you have availed ATM withdrawal cashback of Rs 20 then you can avail POS transaction offer of Rs 20 per transaction upto 2 times. All POS transactions are Free upto Rs 2000.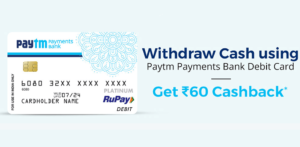 How to Request Paytm Debit Card?
Open Paytm App
Goto 'Paytm Payments Bank' Section
Scroll down & tap on 'Request Debit Card'
Select your address & pay the required amount
Once you received your debit card, Activate it before 10th May to avail Rs 60 Cashback – Full Offer Details here
Now once your card is activated perform 1st ATM withdrawal and 2 POS Transactions or 3 POS Transactions to get Rs 20 on each transaction upto 3 times = Rs 60 Cashback on using your Paytm Debit Card.
Cashback of Rs.60 will be credited to user's Paytm Payments Bank Savings account within 10 days of the transaction.
How to Activate the Card?
Launch your Paytm App
Tap on the 'Bank' icon at the bottom right corner of your screen
Scroll down and click on the image of the Debit Card
Choose the option 'Activate ATM Card' (In case your card is already activated, you will not see this option)
Using your phone, scan the QR code at the back of your Debit & ATM Card. You may also choose the 'Scan' option directly from your App home screen and scan the QR code on the back of your card
You will be prompted to enter your passcode
On entering your passcode, you will be asked to verify your Debit card details.
Upon confirmation, you will be prompted to set your ATM PIN
Enter the same PIN again to confirm
Terms & Conditions
Offer will start at 23:59 (11:59 pm) on 06 April 2018 to 23:59 (11:59 pm) on 30th April 2018.
This offer is only valid for customers using their Paytm Payments Bank Debit Card for the first time for POS machine swipe or ATM withdrawals. If a customer has already used their debit card for POS machine swipe or for ATM withdrawal before 11:59 pm on 06 April 2018, then they are not eligible for this offer.
Rs.20/- will be credited to user's Paytm Payments Bank savings account on each of their three first transactions. Thus, a customer can get a total of 60/- cashback across three transactions Eligible transactions – Offer is valid only on POS machine card swipe and 1 ATM withdrawal of ₹250 and above.
Only 1 ATM withdrawal per customer is eligible for this offer. ATM withdrawal transactions beyond the first one will not be counted for this offer, even if the customer has done no POS machine swipe transactions. Thus to avail the cashback three times, customer can

do 1 ATM withdrawal and 2 POS machine swipe transactions within the duration of the offer (in any order)
do 3 POS machine swipe transactions within the duration of the offer.

ATM withdrawals and POS machine swipes can be done in any order.Only successful eligible (defined as above) transactions completed during the offer period are valid i.e. only transactions completed between 23:59 (11:59 pm) on 06 April 2018 to 23:59 (11:59 pm) on 30th April 2018. If a customer only does two transactions between this period, then they will only get ₹20/- + ₹20/- = ₹40/- cashback.
ATM withdrawal can be in ATM of any bank.
Cashback will be credited to user's Paytm Payments Bank Savings account within 10 days of transaction through Debit card. This will be per transaction basis. e.g. cashback of ₹20/- for the first eligible will be credited within 10 days of the first transaction, cashback of ₹20/- for the second transaction will be credited within 10 days of the second transaction, and so on.
No application of promo code is required to avail this offer
Paytm reserves its absolute right to withdraw and/or alter any terms and conditions of the offer at any time without prior notice
This offer is valid for a limited number of users.
Offer can be claimed only once per user.
Offer cannot be transferred to someone else.
If user changes debit cards in between the offer period, offer is no longer valid for the customer.
Offer Source – Click here