Amazon is continuously offering great offers for their users, and after the launch of amazon pay, amazon is never ending up with offers. Always there are new offers on amazon live from time to time and we even share most of them on our blog. So make sure you subscribe to our whatsapp broadcast & visit us regularly for more offers & deals.
Now make your jio recharge worth Rs 399 at just Rs 99 only by following the below steps & availing the cashback offers present on Amazon Pay Website. Avail these amazing offers now & Get Rs 399 recharge at Rs 99 only.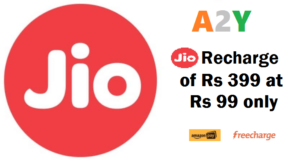 Requirements for the trick?
Amazon Account with KYC Completed x 4
Jio Mobile Number to be recharged
How to avail the offer?
Visit amazon from here & Complete KYC if you havn't
Once KYC is done, Visit here & Add Rs 100 in your Amazon Pay Balance or buy gift vouchers in discount
Now Visit, Amazon Recharge > Prepaid > Do Rs 100 Recharge to your Jio Number
You will get Rs 75 Cashback on your successful Recharge of Rs 100 (New users | First Recharge)
Do the above steps 4 times with 4 new amazon accounts from which you have never recharged any number
That's it! You have made Rs 100 x 4 = Rs 400 Recharge in your Jio Sim
And you have Rs 75 x 4 Amazon account = Rs 300. Means Rs 400 – Rs 300 = Effectively Rs 99 (Re 1 will be left in Jio Main Balance).
How to Recharge using Jio Account Balance?
Don't use myjio app, use jio website to recharge Rs 399 plan from your main balance
Login to your Jio Account, Proceed to Recharge > Select Rs 399 Plan > Select Payment mode as 'Account Balance'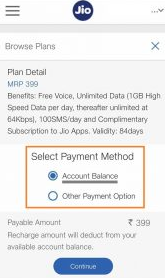 Now Rs 399 will be deducted from your Jio Main Balance & your recharge would be done!
That's it! You have made Rs 399 Jio Recharge at an effective price of just Rs 99 only 🙂
Trick Benefits Breakdown
Current Amazon Pay Balance = Rs 100 x 4 account
Recharged Rs 100 to your Jio via Amazon Recharge Portal
Final Amazon Pay Balance = Rs 75 x 4 account
So you have got Rs 400 Recharge at Rs 100 only (full breakdown below)
Total Recharge you made to your number = Rs 400
The Total Amount you have spend = Rs 400
Total Cashback Benefits you got = Rs 300 in Amazon Pay Balance
Recharge of Rs 399 from Rs 400 Jio Main Balance = Rs 100 – 1 = Rs 99 effective price for Rs 399 Jio Plan
Effective price you paid for Rs 400 Recharge = Rs 99 only