Paytm App is bringing more & more exciting offers daily to attract more & more customers, Here's another great offer by Paytm. Complete KYC on your Paytm Wallet & Get Upto Rs 200 Cashback for the Same. So if you hasn't yet linked your Aadhar with Paytm, Do it & Avail this offer & Try your luck.
Now if you havn't done KYC before 19th March, 2018. Complete KYC & Get Flat 100% Cashback on your Recharge/Bill Payment upto Rs 75.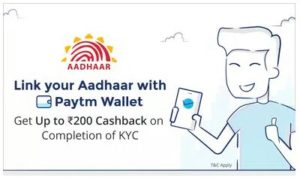 Get Rs.50 Cashback on 1st UPI Tran. on Paytm App
How KYC Process Started?
New RBI guidelines on pre-paid wallet instruments dated 11th Oct 2017 mandate all pre-paid wallet providers (like Paytm) to get Know Your Customer (KYC) done for their users. This a great step as it will help prevent identity theft, fraud and money laundering and make financial systems safer.
Benefits of KYC Upgraded Paytm Wallet?
Wallet balance limit upgrades from Rs.10,000 to Rs.1,00,000 & Unlimited Monthly Spends
Full KYC-verified Paytm users can seamlessly transfer money to other wallets and bank accounts
KYC Verified Users can Open Paytm Payments Bank account in 2 minutes through Paytm App, Skiping the verification processes
Paytm runs exclusive offers for full KYC customers from time to time
How to KYC Upgrade Paytm Wallet?
Login / Register to your Account
You will see KYC Upgrade Option on the Dashboard
Open it > Enter your Full Name & Aadhar Card detail
Now enter your current Address carefully
Paytm will book an appointment to take your bio-metrics for the verification
Paytm Executive will call you for the same in 1-3 working days
Do the procedure & that's it! Your Paytm Wallet will be KYC Upgraded.
A Helpful article from Paytm: How to Fasten your KYC Upgrade Process
How to get 100% Cashback on Recharge Upto Rs 75?
Once KYC is Complete
Proceed to Recharge / Bill Payment
Enter number & Amount
Use Coupon code – 'KYC'
You will see a success message of 100% upto Rs 75
Complete the payment & That's it!
You will receive your cashback within 24 hours.
Terms & Conditions :-
User will be entitled for Paytm Cashback upto Rs 200 on Linking his/her Aadhar with Paytm (KYC Upgrade)
Cashback will be added to the Paytm Wallet within 48 hours of KYC Verification is approved
Offer Period is unknown | Source: Banner on the Paytm App