Paytm- Get Rs 15 Paytm Cash Free on Each Coca-Cola Bottle
As before also we came to know about Free Paytm cash offers on Yippie noodles / Emani air Handsome Cream / Bourbon Biscuits and Knorr Soupy noodles. Now its time to Get Chilled up and Avail free paytm cash. Cocacola Inc. is offering free paytm cash with each pack of Coke or Sprite. Paytm being "The Coolest Currency" you can use it anywhere you want to use.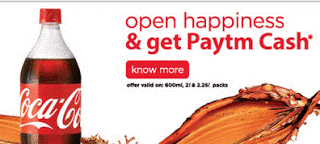 How to Get The Offer :-


Grab a Coke (Small or Large) from your nearest store / retailer
You will get upto Rs 15 Paytm cash code printed inside Coca-Cola Bottle. (Make sure You have purchased pack of Coca-Cola Bottle in which Paytm cash offer is mentioned)
Enjoy your Soft Drink and Get your "Cash Code" Printed inside the packet.
Now visit Paytm Offer Page to Claim your Cash Prize
Enter the Same Cash Code and Click on "Proceed"

On successful application of the Code a one-time addition of the respective denomination up to Rs 15 shall be made to the Participant's Paytm wallet.
Terms & Conditions
This Promotion will commence at 00:00:01 am Indian Standard Time ("IST") on July 15, 2018 ("Start Date") and will continue until September 30, 2018 11:59:59 pm IST ("End Date"). The entries shall be accepted until the End Date. (The Period between the Start Date and End Date shall be called the ("Promotion Period").
The valid timings for receiving entries (SMS) for the Promotion are between 12:00:00 am and 11:59:59 pm each day of the Promotion Period ("Promotion Timings").
Once per User
After purchasing the Products, the participant is to look for the Coupon code ("Code") printed behind the label. After retrieving this Code, the participant should sms the code to 999999999. The Paytm cashback code would be sent as an SMS. Paytm cash is the term used to define Paytm cash that participant gets when he applies the code on Paytm website .The participant can enter the code on redemption page to avail the cashback.
The cash earned this way is stored in the Paytm wallet and is used to purchase products/do recharges on Paytm website only. No cash would be given in lieu of Paytm cash.
On successful application of the Code on redemption page at Paytm website a onetime addition of respective denomination (Rs 15) to user's Paytm wallet will be added. Each code is unique and for onetime use only. A single user account can avail the offer once.
On participating for more than 3 times from the same mobile number every week, the participant becomes eligible for a national level lucky draw (Tamil nadu excluded). One winner from the lucky draw every week gets Rs.1 lac Paytm Cash