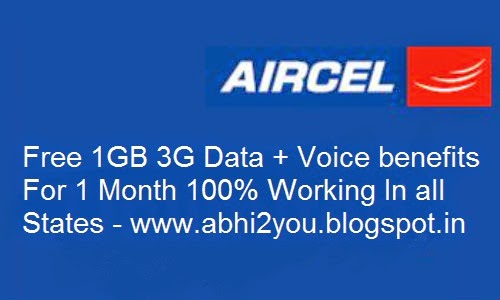 Hello Guys , Recently we posted a trick to Get 3GB 3G Data For 3 Months In Aircel but this trick is not all set that you will get ,you have to try ur luck for 3GB Data Trick.
But This Post Is for all. Yeah I'am Right I Tested This Trick In More Than 15+ States Including UP (E) , UP(W) ,Delhi ,Maharastra ,Delhi ,Jharkhand ,Kashmir ,Bihar ,Orrisa ,Goa ,Andra Pradesh ,Madhya Pradesh ,Gujrat ,Hariyana ,etc.
In This Great trick you will get 1 GB 3G Data And Some Voice benefits based upon your eligibility (I Got 30 Minutes Local Call) You May get More or Less But anyway its 100% Free.
So here we go :-
Steps To Get Free 3G Data :
Open your message and compose a new one.
Type "SAMSUNG" and send it to 121
You Will Receive a message saying :-"Dear Customer, Reply to 121 with:
1 or ACC for Account
3 or SRSTATUS for Service Request Status
4 or VAS for Data VAS
8 or BAL for Balance details 9 or 3G for info on 3G services
0 or More for all services."
Now Wait For 60 Seconds and then Type "NOKIA" and send it to 121.
Now Its a Bingo.You Will get a Thank You message :-"We have received your request and will offer 1GB Free + Voice benefits based on your eligibility over the nxt 3 days. Pls don't change device for free offer."
Note : After getting confirmation for valid code wait for two to three days, you will get another confirmation message for data.
Note : Do not change your handset till you receive the second confirmation
message.
Proof :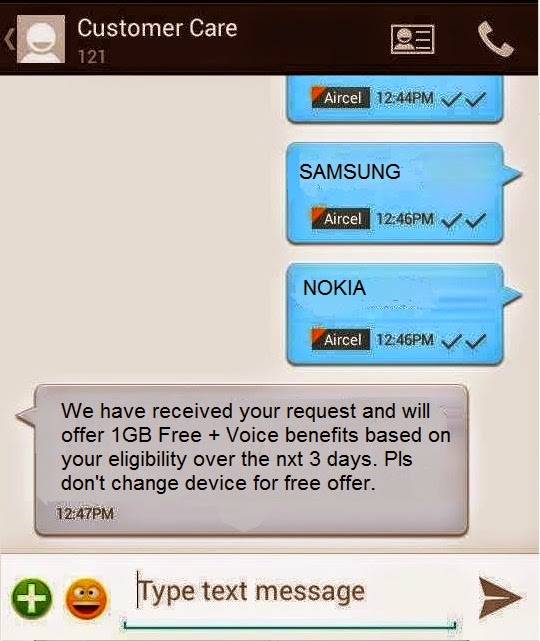 Want 3 GB Free Data ???
Then Visit This Link-
Click Here