As before also we came to know about Free Paytm cash offers on Yippie noodles / Emani air Handsome Cream / Bourbon Biscuits and Knorr Soupy noodles. Now its time to Get Chilled up and Avail free paytm cash. Cocacola Inc. is offering free paytm cash with each pack of Coke or Sprite. Paytm being "The Coolest Currency" you can use it anywhere you want to use.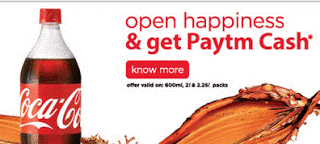 Just buy a 600 ML Code (Rs.35) or 2l Coke (Rs.80) from your nearest store / retailer (Newly Launched Pack with the offer listed) – Get your Cash code to earn Rs.10 / Rs.20 Paytm Cash Free accordingly.
Paytm Offer Page – Click Here
How to Get The Offer :-


Grab a Coke / Sprite (Small or Large) from your nearest store / retailer (Latest Addition with the Paytm Cash offer listed).
Enjoy your Soft Drink and Get your "Cash Code" Printed inside the packet.
Now visit Paytm Offer Page to Claim your Cash Prize
Enter the Same Cash Code and Click on "Proceed"

Sign in / Sign up to your Paytm Wallet.
Voila ! You get Rs.10 / Rs.20 Paytm Cash Added in your Account.